Mark S. Cochran named CEO of the Year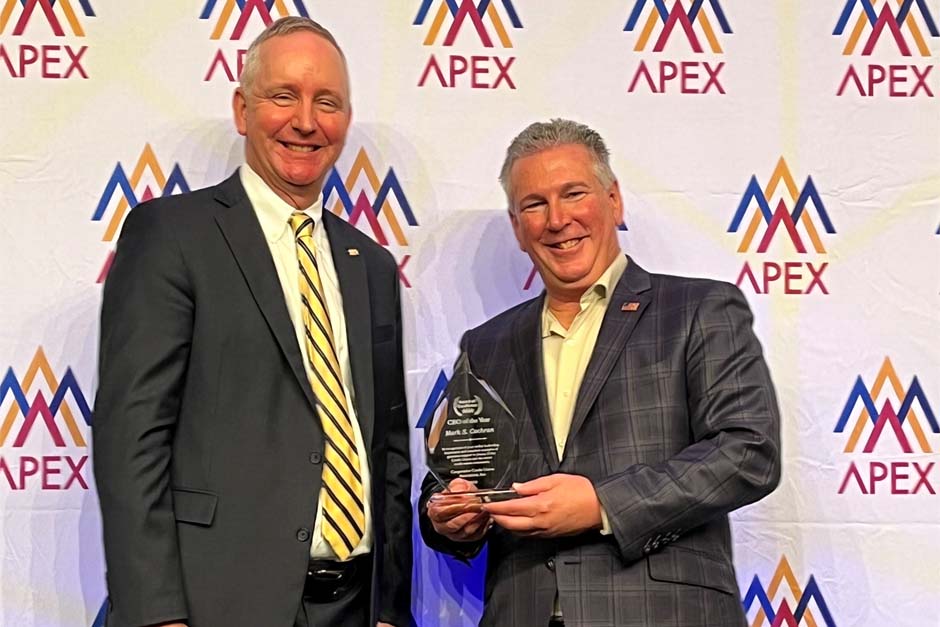 LOWELL, MA– Mark S. Cochran, President and Chief Executive Officer of Jeanne D'Arc Credit Union was recently honored as 2022 CEO of the Year by the Cooperative Credit Union Association (CCUA).
The award recognizes Credit Union CEOs in Massachusetts, Delaware, New Hampshire, and Rhode Island, who demonstrate exceptional leadership, inspire their employees, and commit to putting the needs of others at the forefront. Mark was recognized at a luncheon during the CCUA Annual APEX Conference at Mohegan Sun on October 13.
Mark was nominated by Jeanne D'Arc's Executive Leadership Team and Board of Directors. An excerpt from the nomination reads, "Throughout his fifteen years at Jeanne D'Arc Credit Union, Mark has embodied the Credit Union's "Heart to Serve" mission through his philanthropic work in the community and dedication to his employees. Mark has guided the Credit Union through physical growth, doubling the number of branches, building a new headquarters, a new Lowell branch, and establishing two high school branches."
The nomination went on to read, "Taking into consideration the challenges over the previous two years resulting from the pandemic, Mark deemed 2022 the year of the people, acknowledging the stress on Jeanne D'Arc's employees and focusing on processes that improve employees' ability to do their job. Mark's empathetic leadership during a time of significant change and unrest is consistent with his tenure at Jeanne D'Arc. Mark is the definition of a true and successful leader and is the driving force behind the Credit Union's success." The full nomination can be found here.
"I am incredibly humbled to be recognized by the CCUA," said Cochran. "Fifteen years ago I entered the Lowell Community and I never looked back. I am so proud to be part of the community, the industry, and the Jeanne D'Arc Team."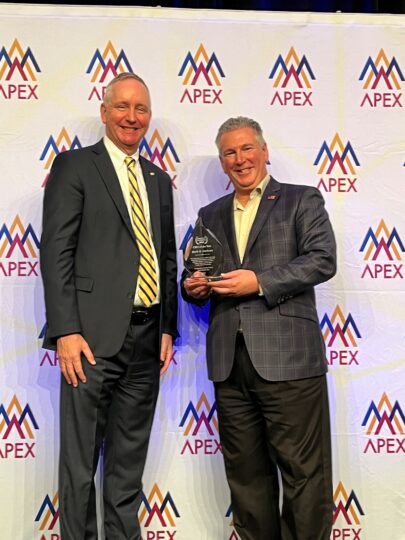 Mark S. Cochran, right, President and Chief Executive Officer of Jeanne D'Arc Credit Union, receiving Cooperative Credit Union Association's (CCUA) 2022 CEO of the Year from Ron McLean, CCUA President and CEO.