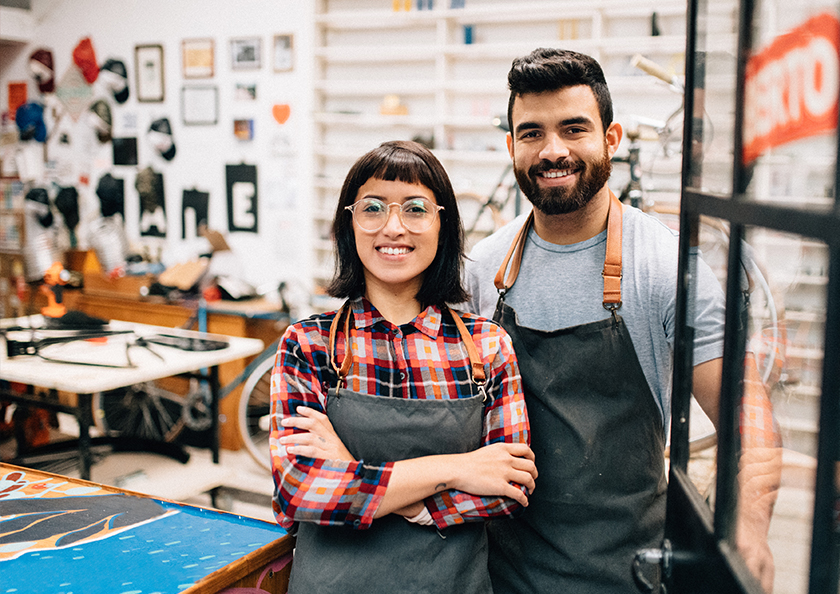 Business Checking
Account options for businesses of all sizes
Seamless account management, so you can focus on your business
Anytime, Anywhere

With online and mobile banking, Bill Pay11, eDocuments, and Deposit Anywhere2, you can manage your business checking account on your schedule.

Member Perks3

Your membership with Jeanne D'Arc gives back in more ways than one, with awesome Member Perks, to reward you for your loyalty to JDCU.

Free VISA® Debit Card

Free point-of-sale transactions and access to 24-hour banking at 28,000+ surcharge-free ATMs. Plus, you can request multiple cards and access levels for your employees.

Overdraft Line of Credit

Avoid insufficient funds fees. We take care of overdraft(s) up to your maximum approved limit of $10k.4
Minimum Balance Requirement

Minimum Balance Requirement

Monthly Allowable Transactions

Monthly Allowable Transactions

ACH Credits up to one (1) business day early

ACH Credits up to one (1) business day early
Small businesses and non-profits

Minimum Balance Requirement

Monthly Allowable Transactions

$0.30 per transaction after your first 150 monthly transactions

ACH Credits up to one (1) business day early
Businesses with moderate transaction volumes

Minimum Balance Requirement

Monthly Allowable Transactions

$0.30 per transaction after your first 300 monthly transactions

ACH Credits up to one (1) business day early
Businesses with high transaction volumes

Minimum Balance Requirement

$0 (a minimum daily balance of $10,000 is required to earn interest)

Monthly Allowable Transactions

Earn dividends on daily balances greater than $10,000, with tiered yields for businesses that maintain higher daily balances. See rates.

$20 (waived with a minimum daily balance of $50,000)

ACH Credits up to one (1) business day early
Our BuildStrong Checking rates
Business BuildStrong Checking

Balance

Dividend Rate*

APY**

First check order is free for standard checks or $50 rebate for business checks.

* Dividends are calculated using the daily balance method which applies a periodic rate to the daily balance in the account for that period.

** APY = Annual Percentage Yield. Rates are effective as of March 15, 2021, and are subject to change, after account opening, without notice. Requires a $1,000 minimum balance to open the account and you must maintain a minimum daily balance of $1,000 in your account each day to obtain the disclosed APY. Fees could reduce earnings on the account. A $5.00 Membership Account Required.

$10,000 – $24,999.99

0.150%

0.15%

$25,000 – $49,999.99

0.150%

0.15%

$50,000 – $99,999.99

0.200%

0.20%

$100,000 and over

0.250%

0.25%
You are eligible for business membership if you meet the following requirements:
Any business (fraternal organization, voluntary association, sole proprietorship, partnership, limited partnership, corporation, limited liability company or limited liability partnership), composed principally of individuals who are themselves eligible for consumer membership at Jeanne D'Arc Credit Union, may become a business member.
Membership is limited to those individuals who live, work, or attend school in Middlesex or Essex counties, the cities or towns of Fitchburg, Leominster, Harvard, Lunenburg, or Lancaster, or the New Hampshire counties of Hillsborough or Rockingham and their immediate families.
Be able to describe their business activities and provide certain supporting documentation.
A $5.00 Membership Account is required.
You can order checks by logging into Online Banking or our Mobile Banking App and clicking on Check Services widget. From there, click on the tab Reorder Checks.
Or you can visit one of our branches and speak with a Member Service Representative who can order them for you.
Jeanne D'Arc Credit Union ATMs are fee-free and unlimited. Other non-Jeanne D'Arc ATMs cost $1.50 per withdrawal.
Yes, you will have access to the same services offered through online banking as our consumer members do. You can view statements, eDocuments, pay bills, and more through your mobile device or computer.
Log into Online Banking and select the Message Center widget. From there, press the Compose button in the center of the window to begin.
Yes, in addition to mobile deposit, you can deposit at any one of the following branches:
Dracut – Lakeview
Dracut – Bridge
Lowell
Nashua
Chelmsford
Westford
Methuen
Ready to get started?
To apply for loans, open accounts or to schedule a meeting to discuss your business, contact:
Robert Boley
AVP – Business Services Advisor

Office: (978) 703-7982
Mobile: (978) 421-4644
Email: [email protected]

Yan Ventura
AT – Business Services Advisor

Office: 978-323-4952 978-758-8010
Mobile: 978-758-8010
Email:  [email protected]
Disclosures
1Online Bill Pay is a free service. However, for an electronic expedited payment, the fee is $7.50. Overnight check expedited payment is also available for $25.00.
2Business Checking Accounts will incur a per-item fee if the number of checks deposited exceeds the allowed limits. Please refer to the current Jeanne D'Arc Credit Union Business Fee & Service Charge Schedule. [link to https://www.jdcu.org/wpcms/wp-content/uploads/2019/08/Business-Fee-Schedule.pdf] All remote check deposit enrollees are subject to approval by the Credit Union. Enrollment may take up to two (2) business days.
3For business members, Members Perks is free with a Build Checking or BuildStrong Checking Account, and is $5.99 per month with a Community Checking account. For individuals, Member Perks is free for the first 90 days and then $5.99 per month, beginning on the first of the month after the 90-day free trial period has ended. Eligible consumer accounts include Fee Free Checking, Premier Checking, Senior Fee Free Checking, Senior Premier Checking, Statement Savings, Passbook Savings, Senior Statement Savings, Senior Passbook Savings and Money Market Savings.
4Credit limit based on members' credit history and ability to repay. Please refer to current Business Fee & Service Charge Schedule for Overdraft Fees.