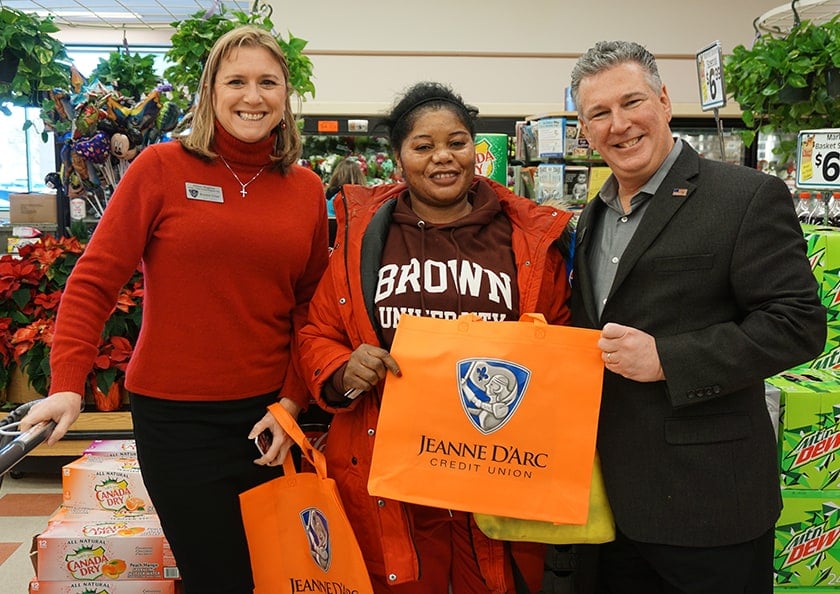 Howe We Give Back
Small Acts That Give Back
Our common thread is the common good
Small Acts That Give Back is our own version of random acts of kindness. The mission is to spread joy to our members and neighbors right here in our own community. Read below to find out what we've done so far this year
Small Acts That Give Back
Celebrating National Muffin Day in Westford

We kicked off our 2020 Small Acts That Give Back Initiative with the Westford community. For National Muffin Day, we surprised our neighbors with a breakfast treat from Muffins on Main. Thank you to Muffins on Main for having us, and allowing us to start our year of Small Acts off strong!

Our Latest Employee Volunteer Winner

Each quarter, we randomly award one employee volunteer a $500 donation to the non-profit organization of their choice. Our latest winner is Matt Beaudoin, Regional Branch Manager! Matt chose Lowell Humane Society to be the recipient of a $500 donation. Great choice Matt!
I adore JDCU and all they do for the community. <3

Lisa M.
Small Acts from the past
We've been doing Small Acts That Give Back for years, so check out some from the past, to get inspired!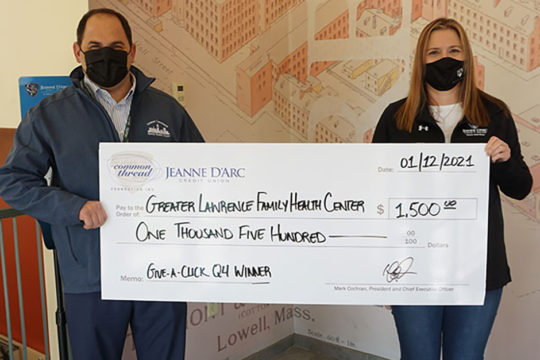 Jeanne D'Arc Credit Union Awards $1,500 to Greater Lawrence Family Health Center
Greater Lawrence Family Health Center is the latest non-profit organization to be awarded a $1,500 donation from Jeanne D'Arc Credit … Continue reading →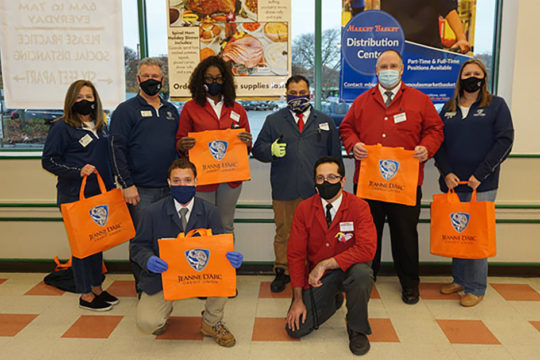 Jeanne D'Arc Credit Union Gives Back for World Kindness Day
On November 13, World Kindness Day, Jeanne D'Arc Credit Union surprised customers at the Fletcher Street Market Basket in Lowell, … Continue reading →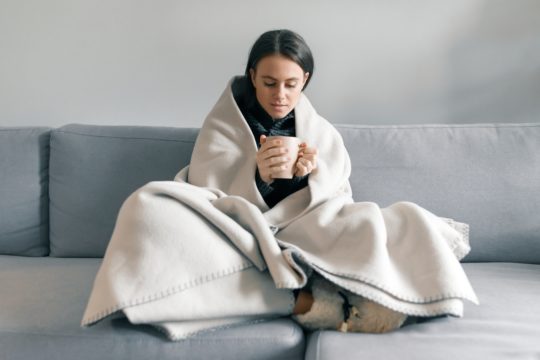 Help With Your Heating Bill
Once again, we helped some of our members pay their heating costs from this winter. Congratulations to our winners, who … Continue reading →
We support schools and students
Financial freedom and fulfilling livelihoods begin with a quality education. We support students of all age levels because continuous learning keeps us moving forward. Learn more about our Financial Wellness Programs.
Jeanne D'Arc Credit Union awarded
$17,000
in college scholarships to members and employees.
In 2020, we awarded $17,000 in college scholarships to members through our MoneyStrong College Scholarship and Employee Scholarship Programs, for both future and current college students.
Through our Employee Scholarship Program, Jeanne D'Arc Credit Union employees, as well as their children or grandchildren, are eligible to receive a $500 or $1,000 scholarship. There are six different scholarships available, three memorializing former Jeanne D'Arc employees and board members, and three commemorating our commitment to supporting local non-profit organizations. The Credit Union awarded a total of $4,500 through the Employee Program.
The common thread we share is at the core of all we do
In addition to our Small Acts That Give Back, our We Share A Common Thread Foundation gives back to community organizations that do the vital work necessary to enrich and improve the places where we live and work.
Our Virtual Fundraiser Raised
$80,000
for Local Organizations
Our first Virtual We Share A Common Thread Foundation Fundraiser was May 13-20, raising nearly $80,000. This goes towards the Foundation's mission, to support the lives of people in the community by assisting with food, shelter, clothing, health, and education.
The 10th anniversary of the fundraising event was originally scheduled to be held at Lowell Memorial Auditorium in February but was canceled due to COVID-19. Due to the generosity of the event sponsors, Fiserv and DCU, and the community, the first virtual event raised more than the previous year's event, allowing us to distribute funds to 125 local non-profit organizations.
We are thankful for the support we receive every year, but this year, in a time when so many are in need, we continue to be amazed at how our employees, our sponsors, our members, and our community have come together, these funds allow us to extend our ongoing support to more organizations at a time when so many more people are relying on them.

Mark S. Cochran, President and Chief Executive Officer of Jeanne D'Arc Credit Union.
Banking with us makes an impact
In 2020 our Foundation donated nearly

to more than 300 local organizations.

In 2019, our employees donated

8,100

volunteer hours stocking shelves, organizing books and clothing, serving meals, and so much more.

We donate

every quarter to local non-profits, through our Give a Click program.
There are various ways you can join Jeanne D'Arc as we give back to the community. Here are some great ways you can get involved today are:
Give a Click: Every quarter, we nominate three local 501(c)(3) organization to run in our Give a Click event for the chance to win $1,500. So Give a Click and cast your vote today for who you think should win!
Foundation Fundraiser: Every year we host a fundraiser to raise money to support local organizations. Check out our Fundraiser page for more details.
Make a donation: Make in impact in the community by donating to the We Share a Common Thread foundation.
You can make a charitable request form found here. Once filled out, you can mail your form to:
We Share A Common Thread Foundation
c/o Jeanne D'Arc Credit Union
Attention: Alison Hughes
1 Tremont Place
Lowell, MA 01854
We have a rich history of giving back to the community. This foundation is operated by Jeanne D'Arc Credit Union and established in 2011 as a means to make an impact in the community and to our members.
Looking for a donation?
Jeanne D'Arc Credit Union is committed to actively supporting our communities through financial contributions, donations, and volunteer service.
Make a charitable request