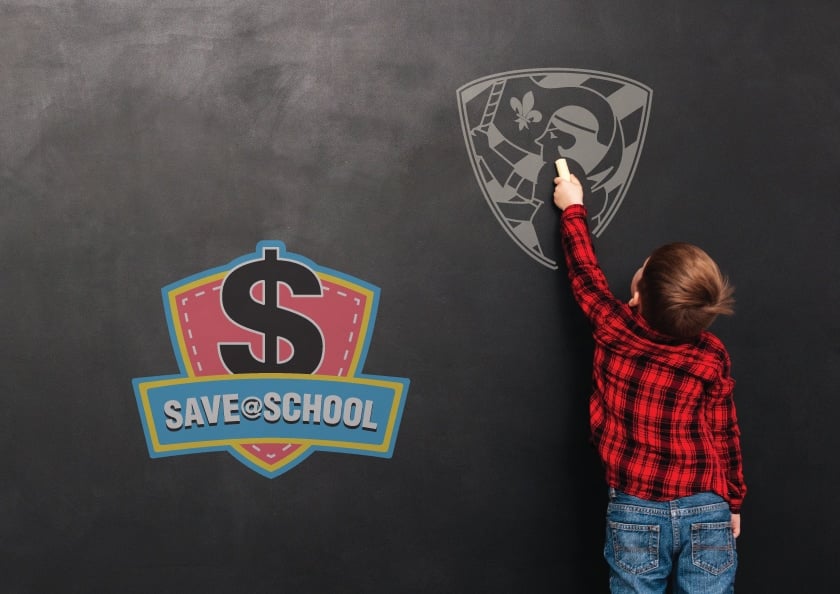 Save at School
Introducing students to saving for the future
Save at School
Our Save-at-School program introduces students to banking and teaches them the necessary habits to successfully save for the things they need and want. Students bring their deposits on designated Save-at-School days and with each one, they watch their savings grow!
Click on your school below to see the pickup schedule or click back to our Financial Wellness page.
Don't see your school? Contact us to register your school for Save-At-School Program.
Pickup Days Below
Wednesday, September 27
Wednesday, October 11
WednesdayT, October 25
Wednesday, November 8
Wednesday, November 22
Wednesday, December 6
Wednesday, December 20
Wednesday, January 10
Wednesday, January 24
Wednesday, February 7
Wednesday, March 6
Wednesday, March 20
Wednesday, April 3
Wednesday, May 1
Wednesday, May 15
Wednesday, May 29
Pickup Days Below
Thursday, September 28
Thursday, October 12
Thursday, October 26
Thursday, November 9
Thursday, December 7
Thursday, December 21
Thursday, January 4
Thursday, January 18
Thursday, February 1
Thursday, February 15
Thursday, February 29
Thursday, March 14
Thursday, March 28
Thursday, April 11
Thursday, April 25
Thursday, May 9
Thursday, May 23
Pickup Days Below
Thursday, September 21
Thursday, October 5
Thursday, October 19
Thursday, November 2
Thursday, November 16
Thursday, November 30
Thursday, December 14
Thursday, January 4
Thursday, January 18
Thursday, February 1
Thursday, February 15
Thursday, February 29
Thursday, March 14
Thursday, March 28
Thursday, April 11
Thursday, April 25
Thursday, May 9
Thursday, May 23
Pickup Days Below
Thursday, September 28
Thursday, October 12
Thursday, October 26
Thursday, November 9
Thursday, December 7
Thursday, December 21
Thursday, January 4
Thursday, January 18
Thursday, February 1
Thursday, February 15
Thursday, February 29
Thursday, March 14
Thursday, March 28
Thursday, April 11
Thursday, April 25
Thursday, May 9
Thursday, May 23
Pickup Days Below
Wednesday, September 27
Wednesday, October 11
Wednesday, October 25
Wednesday, November 8
Wednesday, November 22
Wednesday, December 6
Wednesday, December 20
Wednesday, January 10
Wednesday, January 24
Wednesday, February 7
Wednesday, March 6
Wednesday, March 20
Wednesday, April 3
Wednesday, May 1
Wednesday, May 15
Wednesday, May 29
Pickup Days Below
Tuesday, September 26
Tuesday, October 10
Tuesday, October 24
Tuesday, November 21
Tuesday, December 5
Tuesday, December 19
Tuesday, January 9
Tuesday, January 23
Tuesday, February 6
Tuesday, February 20
Tuesday, March 5
Tuesday, March 19
Tuesday, April 2
Tuesday, April 16
Tuesday, April 30
Tuesday, May 14
Tuesday, May 28
Pickup Days Below
Friday, September 29
Friday, October 13
Friday, October 27
Friday, November 17
Friday, December 8
Friday, December 22
Friday, January 12
Friday, January 26
Friday, February 9
Friday, March 8
Friday, March 22
Friday, April 5
Friday, May 3
Friday, May 17
Friday, May 31
Pickup Days Below
Tuesday, September 26
Tuesday, October 10
Tuesday, October 24
Tuesday, November 21
Tuesday, December 5
Tuesday, December 19
Tuesday, January 9
Tuesday, January 23
Tuesday, February 6
Tuesday, March 5
Tuesday, March 19
Tuesday, April 2
Tuesday, April 30
Tuesday, May 14
Tuesday, May 28
Pickup Days Below
Wednesday, September 20
Wednesday, October 4
Wednesday, October 18
Wednesday, November 1
Wednesday, November 15
Wednesday, November 29
Wednesday, December 13
Wednesday, January 10
Wednesday, January 24
Wednesday, February 7
Wednesday, March 6
Wednesday, March 20
Wednesday, April 3
Wednesday, May 1
Wednesday, May 15
Wednesday, May 29
Pickup Days Below
Wednesday, September 27
Wednesday, October 11
Monday, October 25
Wednesday, November 8
Wednesday, November 22
Wednesday, December 6
Wednesday, December 20
Wednesday, January 10
Wednesday, January 24
Wednesday, February 7
Wednesday, March 6
Wednesday, March 20
Wednesday, April 3
Wednesday, May 1
Wednesday, May 15
Wednesday, May 29
Pickup Days Below
Tuesday, September 26
Tuesday, October 10
Tuesday, October 24
Tuesday, November 21
Tuesday, December 5
Tuesday, December 19
Tuesday, January 9
Tuesday, January 23
Tuesday, February 6
Tuesday, March 5
Tuesday, March 19
Tuesday, April 2
Tuesday, April 30
Tuesday, May 14
Tuesday, May 28
Pickup Days Below
Tuesday, September 26
Tuesday, October 10
Tuesday, October 24
Tuesday, November 21
Tuesday, December 5
Tuesday, December 19
Tuesday, January 9
Tuesday, January 23
Tuesday, February 6
Tuesday, March 5
Tuesday, March 19
Tuesday, April 2
Tuesday, April 30
Tuesday, May 14
Tuesday, May 28
Pickup Days Below
Tuesday, September 26
Tuesday, October 10
Tuesday, October 24
Tuesday, November 21
Tuesday, December 5
Tuesday, December 19
Tuesday, January 9
Tuesday, January 23
Tuesday, February 6
Tuesday, March 5
Tuesday, March 19
Tuesday, April 2
Tuesday, April 30
Tuesday, May 14
Tuesday, May 28
Pickup Days Below
Thursday, September 28
Thursday, October 12
Thursday, October 26
Thursday, November 9
Thursday, December 7
Thursday, December 21
Thursday, January 4
Thursday, January 18
Thursday, February 1
Thursday, February 15
Thursday, February 29
Thursday, March 14
Thursday, March 28
Thursday, April 11
Thursday, April 25
Thursday, May 9
Thursday, May 23
Pickup Days Below
Thursday, September 21
Thursday, October 5
Thursday, October 19
Thursday, November 2
Thursday, November 16
Thursday, November 30
Thursday, December 14
Thursday, January 4
Thursday, January 18
Thursday, February 1
Thursday, February 15
Thursday, February 29
Thursday, March 14
Thursday, March 28
Thursday, April 11
Thursday, April 25
Thursday, May 9
Thursday, May 23
Pickup Days Below
Friday, September 29
Friday, October 13
Friday, October 27
Friday, November 17
Friday, December 8
Friday, December 22
Friday, January 12
Friday, January 26
Friday, February 9
Friday, March 8
Friday, March 22
Friday, April 5
Friday, May 3
Friday, May 17
Friday, May 31
Pickup Days Below
Friday, September 29
Friday, October 13
Friday, October 27
Friday, November 17
Friday, December 8
Friday, December 22
Friday, January 12
Friday, January 26
Friday, February 9
Friday, March 8
Friday, March 22
Friday, April 5
Friday, May 3
Friday, May 17
Friday, May 31
Pickup Days Below
Tuesday, September 19
Tuesday, October 3
Tuesday, October 17
Tuesday, October 31
Tuesday, November 14
Tuesday, November 28
Tuesday, December 12
Tuesday, January 16
Tuesday, January 30
Tuesday, February 13
Tuesday, February 27
Tuesday, March 12
Tuesday, March 26
Tuesday, April 9
Tuesday, May 7
Monday, May 27
Pickup Days Below
Tuesday, October 3
Tuesday, October 17
Tuesday, October 31
Tuesday, November 14
Tuesday, November 28
Tuesday, December 12
Tuesday, January 16
Tuesday, January 30
Tuesday, February 13
Tuesday, February 27
Tuesday, March 12
Tuesday, March 26
Tuesday, April 9
Tuesday, May 7
Tuesday, May 21