First-Time Home Buyer Guide: Intro to Home Loans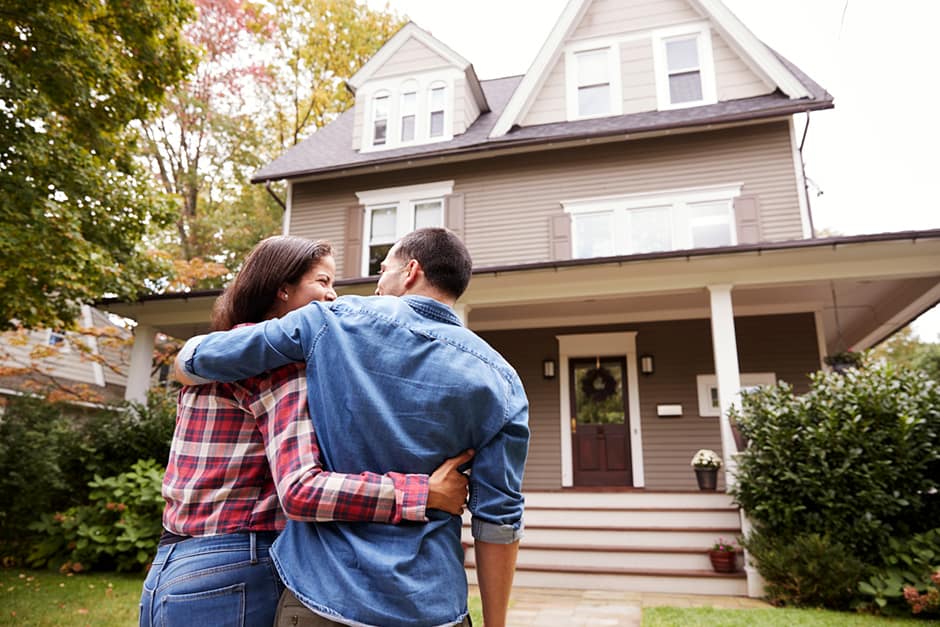 No matter what stage of life you're in, buying a house is a big commitment and can be very stressful. There's a lot to juggle between finding the right house, getting the right loan, calculating broker fees, and other costs. Not to mention everything else that is involved with buying a new house, including packing and moving!
However, with some patience, a little preparation, and a little financial and home buying advice, you will be on your way to buying your first home with ease!
Where to Start:
The best place to start when looking to buy your new home is to see how much you can afford to spend by getting a free pre-qualification and pre-approval on a loan.
Pre-Qualified
When you get pre-qualified for a loan, it's essentially an unofficial estimate from the lender telling you the maximum loan amount you qualify for. This estimate is based on verbal information you provide. Unlike a pre-approval, the lender does not verify your income, assets, or debt obligations with a pre-qualification estimate.
Pre-Approved
Meanwhile, with a pre-approval the lender verifies your financial information, providing you with confirmation in-writing for a specific loan amount. A pre-approval is the best way to show real estate agents and sellers that you can obtain financing to purchase the house. It's important to keep in mind that getting pre-approved is NOT the same as a loan guarantee.
Let's Talk about Paperwork
Regardless of the type of loan you're looking for or who you're applying with, you will need these documents to get started on the pre-approval process:
A copy of your driver's license
One month of current pay stubs
Two months of bank statements
The last two years of W2s and tax returns
These documents are required from you and whoever else may be applying with you. If you are self-employed, there could be even more documentation to present to the lender as proof of income.
What are Lenders Looking For?
Lenders look at several financial-related areas to decide whether you'd be a credible borrower. From the documents mentioned above, potential lenders will then gather information by looking at your annual earnings, your gross monthly income, job patterns, FICO score, and credit reports. Credit history is a huge factor in the preapproval process—it's a window into your financial life and answers questions that the lender has, such as:
Do you have a low or high credit score?
Do you have a good history of paying your bills on time?
How much total debt do you have?
All of these questions and more will be considered. Lenders will also look at the total amount of monthly debt and compare it to your gross monthly income—this is called your debt-to-income ratio.
A low debt-ratio means that you make enough money to cover your debt and still have a good amount of money left over. The lower your debt-to-income ratio, the better your opportunity to get a loan. Lenders won't give a mortgage to a borrower who has a lot of debt and/or a history of not paying off debt responsibly.
How to Know which Lender to Choose?
From companies that specialize in home loans, to the mortgage team at your local credit union or bank, you may have multiple lender options to choose from.
You should look for a lender who can meet you at your level of understanding, like a loan officer or financial consultant—someone who is trained to help you make the best decision for your finances. You should have someone who is up for answering your questions, no matter how basic or difficult they may seem and provide helpful information so you can make the right choice for your loan.
Rate Shopping
If you know your credit score, the price range you can afford, and how much of a down payment you can make on a house, you can get a quick rate from many different lenders. This process is known as rate shopping; the goal of rate shopping is to go with the lender and rate that make you feel most comfortable being in a long-term relationship.
It's important to keep your rate shopping within a 14-day window if you don't want your credit score to be negatively impacted by all of the "hard" credit inquiries. When a credit check is made, credit bureaus see this and understand that you could potentially add more debt. Because of this, your score will drop from multiple credit checks.
Lenders understand that a consumer has the right to find the lowest rate.
In fact, lenders will typically give you a 14 to 15 day window where credit checks pulled for home loan purposes will not count against your credit score. Be sure to contact or meet with potential lenders within this two-week timeframe to avoid a credit drop.
What to do Once You Have Been Pre-Approved:
Don't Make Big Financial Changes
While you are in the home-buying stage of your life, try not to make any big financial changes, such as taking on new credit, paying off large debts, or taking a large chunk of money out of your savings account—even changing jobs is not advised. Your pre-approved loan amount is based on your situation at the time of your pre-approval. It's in your best interest to try and keep things as consistent as possible during this time so you won't have to provide new information or risk your pre-approval amount changing.
Additional Costs
Lastly; your down payment isn't the only cost you will have to pay for your new home. You will also have to pay cash for closing costs and pre-paid costs. Here's a brief breakdown of what each means:

Continue to Educate Yourself Along the Way
Once you know what you can afford, it's time for the real house shopping to begin. Becoming a homeowner is a balance of both patience and quick action. Patience to get through the mundane (and sometimes prolonged shopping experience) and quick action for you and your real estate team to put in an offer on the house you want before it's too late.
Not every buyer's experience is the same. If you want to learn more about the home buying process and get additional tips about getting approved for loans from actual loan officers, we encourage you to connect with one of Jeanne D'Arc Credit Union's Loan Officers OR attend one of our First Time Home Buyer Seminars.
Have any specifics questions about the home buying process? Leave a comment!
Subscribe to The Money Mill to get a link to our free online financial wellness program that's designed to help you successfully manage your financial life. Plus, you'll receive emails whenever we publish a new article so you'll never miss a beat!