How Much You Can Borrow with a Personal Loan: Guide + Calculator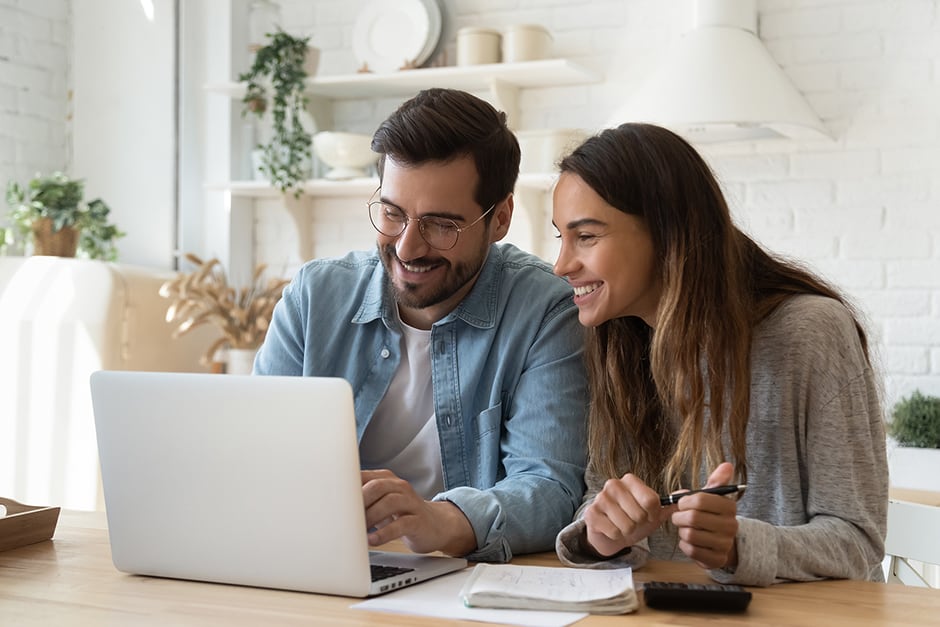 Sometimes expenses come up that we haven't anticipated. Other times, we may decide we want to undertake an expensive project to improve our lives. Sometimes, debt just gets out of control, and it's hard to keep track of where it is coming from.
No matter the exact reason for needing extra funds, personal loans can be a great solution to many financial situations. Personal loans come in a range of amounts, from $100-100,000 (or more). We've compiled a guide to walk you through the perks, limitations, and process of getting a personal loan.
Reasons To Get A Personal Loan
A personal loan is a popular way to consolidate debt. If you have overdue credit cards, medical expenses, and other debt, it can be a good idea to use a personal loan to pay off all of that outstanding debt to consolidate it into one monthly payment. This can be especially true of credit card debt, where interest rates can be sky-high.
When you're paying interest on multiple credit cards, consolidating the payments into a single payment can be beneficial to both your finances and your stress levels.
Personal loans can also be used to finance big life events like weddings, anniversary trips, or other parties or occasions. You might not have the money out of pocket to pay for your dream ceremony, so a personal loan can help you accomplish this. They can also be used to pay for big projects, like remodeling your house.
Personal loans can also be a life-saver in an emergency. Sometimes the emergency fund we've saved dwindles or isn't sufficient to cover life's unexpected events. If your pipes suddenly burst and you are met with an untimely kitchen flood, personal loans can be a way to cover the upfront expenses.
How Much Can I Borrow With A Personal Loan?
The amount you can receive via a personal loan is very specific to your lender, your needs, and your situation. If you have a good credit score, you can likely access a wide range of loan amounts. However, some lenders set a limit at midsize loans.
For example, Jeanne D'Arc offers up to $15,000 personal loans without collateral. However, how much you get approved for (and on what terms) greatly depends on your credit score.
How Your Credit Score Affects Your Loan
Many personal loan lenders have a minimum credit score required to take out a personal loan. In addition, the APR on a loan that you are approved for will vary with your credit score. If you have a very good score, you will likely owe less in interest.
For example, the minimum APR* you can owe on a personal loan from Jeanne D'Arc is 9.00% over a term of one year. However, if your credit score is poor or just good (instead of excellent), this rate is likely to be a bit higher.
Choosing A Personal Loan
Before you start shopping for loans, it is extremely important to understand how much of a personal loan you can afford to take out. Especially when it comes to your wants – such as a dream vacation. It can be tempting to take out a big personal loan to finance precisely what you want. However, before you start dreaming, it's important to revisit your monthly budget and determine exactly how much you can afford to pay.
Once you've decided on a general monthly budget, the most important thing you can do is to shop around. This is true regardless of what type of loan you are taking out, be it a car loan, mortgage, or personal loan.
Different lenders offer different APR and loan terms, so going with your first choice is not always a great option. It can be difficult to compare different loans due to varied APR, loan terms, and amounts, so a great option is to use a loan calculator.
You can calculate your expected payments using our What Will My Payments Be calculator. Simply enter the loan amount, offered interest rate, and loan term, to calculate the monthly payments. This helps you understand how interest rates and varying loan amounts impact your monthly payment.
Applying For Personal Loans
Once you've made a list of your top loan options, you can start to apply for pre-approval.
Pre-approval is a process whereby most financial institutions will issue documentation saying that you can access the loan you want with the agreed-upon conditions. This can help you make sure that the loans you are looking at are realistic options. Once you've been pre-approved, there is typically a range of time you have before you have to accept or deny.
Whatever your reason for wanting a personal loan, make sure to evaluate how the loan fits into your long-term financial goals. You can start your search for a loan today by checking out the options that Jeanne D'Arc Credit Union offers. With benefits like no prepayment fees and some loans eligible for Skip-A-Pay, we have a range of loans to suit your needs.
Learn More About Personal Loans
Subscribe to The Money Mill to get a link to our free online financial wellness program that's designed to help you successfully manage your financial life. Plus, you'll receive emails whenever we publish a new article so you'll never miss a beat!
* APR = Annual Percentage Rate. APR is determined by Credit Score and actual rates may vary. All rates/APRs listed are accurate as of the effective date and are subject to change without notice. Please contact a Jeanne D'Arc Credit Union Member Service Representative for more information about applicable fees and terms.