One Wish Project Wins Jeanne D'Arc Credit Union National Nonprofit Day Campaign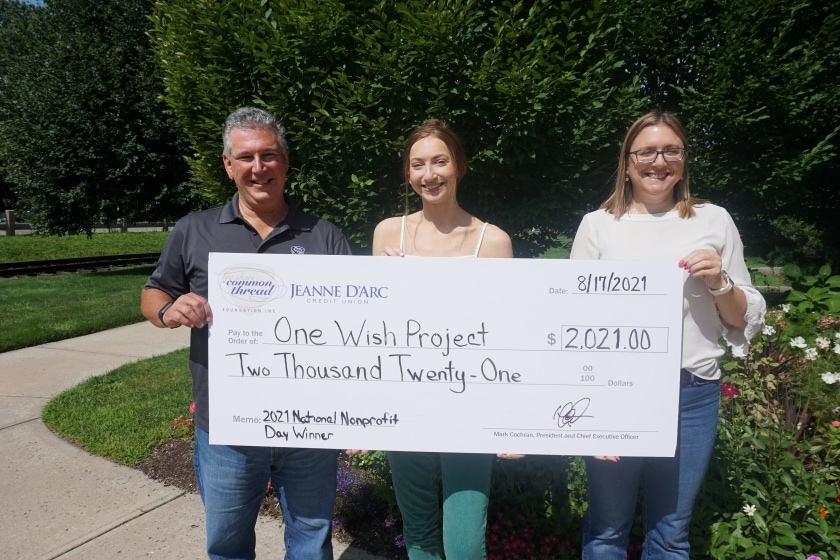 LOWELL, MA – One Wish Project is the winner of Jeanne D'Arc Credit Union's National Nonprofit Day Campaign. The organization received a $2,021 donation as the winning prize.
One Wish Project, located in Lawrence, MA, provides birthday parties, cakes, and gifts for children of all ages living in foster care and homeless shelters. One Wish supplies gifts and has volunteers bake homemade cakes and cupcakes for the children. Hannah Finn wants each child to experience the kind of joy everyone should feel on their birthday.
Hannah Finn started the organization when she was fourteen years old with the mission to make every child feel special on their birthday. She began by celebrating ten kids at a local shelter, and now she brings birthday celebrations to more than 350 children. As Hannah transitioned to college in the fall of 2020, One Wish Project moved to a volunteer-based organization. During these months, Hannah's mom, Claudia, oversees the daily operations of the organization and manages the volunteer program. One Wish Project believes that every child deserves to have a birthday regardless of their address and living arrangements.
"For my organization to be recognized for just simply being kind, is incredible," said Finn. "This donation will not only help the growth of the organization, but it will put a smile on so many children's faces who are deserving of a birthday celebration."
"It was such a pleasure to meet and recognize the accomplishments of this remarkable young woman who has created a unique way to give back to the youth in the community," said Mark S. Cochran, President & CEO.
Jeanne D'Arc Credit Union ran the Nonprofit Day Campaign from July 26th through August 7th as a way to recognize National Nonprofit Day, which was celebrated across the country on Tuesday, August 17th. Community members nominated their favorite local 501(c) (3) nonprofits for the chance to win a $2,021 donation. The Credit Union received 362 nominations in total for 139 various nonprofit organizations.
Hannah Finn, center, founder of One Wish   Project accepting a check from Mark S. Cochran, President & CEO and Alison Hughes AVP – Community Engagement Officer, as the winner of Jeanne D'Arc Credit Union's National Nonprofit Day Campaign.
###
About Jeanne D'Arc Credit Union:
Jeanne D'Arc Credit Union was established in 1912 and is a full-service, community-based financial cooperative. Locally owned by 93,000 members with $1.7 billion in assets, Jeanne D'Arc operates eight full-service branches in Lowell, Dracut (2), Tyngsboro, Chelmsford, Methuen and Westford, Massachusetts and Nashua, New Hampshire; high-school branches at Lowell High, Dracut High, and Nashua High School South; a loan center in Lowell; and a mortgage center in Chelmsford.