What Are Overdraft Fees & How to Avoid Them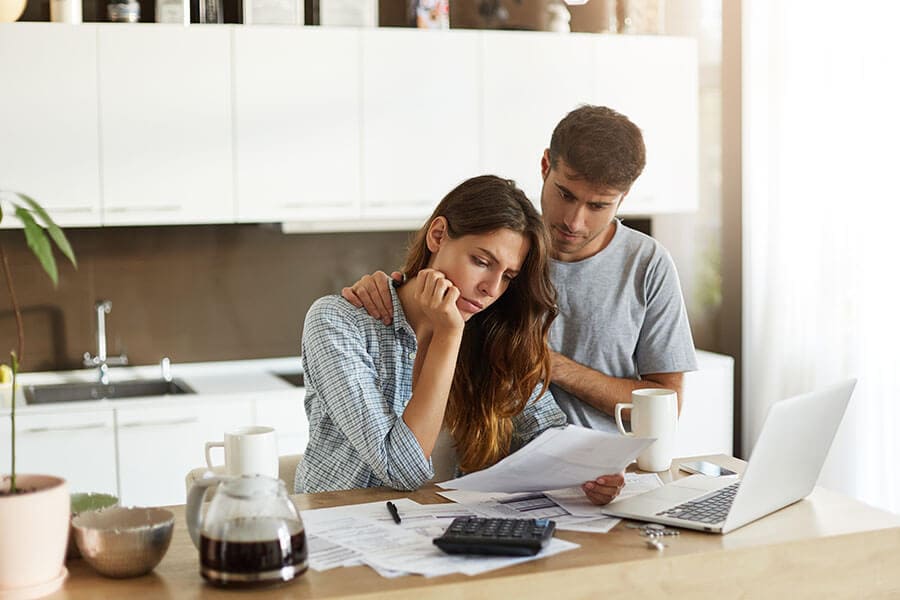 Even the best budgeters can make a mistake. It's easy to miss a scheduled payment or forget to log a transaction. When you check your bank account, you're faced with insufficient funds resulting in overdraft fees.
But overdraft fees are also some of the easiest fees to avoid. Building a budget to route your money each month can set you up to never pay another overdraft fee. To help get you there, let's take a look at everything you need to know about overdraft fees.
What Are Overdraft Fees?
An overdraft happens when you make a transaction that brings the balance of your bank account below zero. At that point, your bank account is considered overdrawn and you'll have to pay what's known as an overdraft fee.
Think of your checking account with us at Jeanne D'Arc Credit Union as a digital wallet. Your money lives "digitally" so you don't have to carry it around with you. Instead, you can use a debit card, which acts like cash, to pay for the things you buy. The money comes out of your checking account, making things simple and safe.
But a debit card also makes it very easy to swipe and not think about your current balance each time. With cash, you can look in your wallet and see exactly how much money you have. And when you've used it all, it's gone. With your debit card, if you're not keeping track, it is possible to spend money you don't have, which can lead to pricey overdraft fees.
How Much Is An Overdraft Fee?
The amount of the overdraft fee varies for each credit union. On average, the fee is about $35, but it could be anywhere from $20 to $40. Overdrafts can get expensive so it's important to pay the fee as quickly as possible.
Keep in mind, depending on where you bank, you could potentially be charged a fee each day your account maintains a balance less than zero. In some cases, you could be charged a fee for each transaction!
When you're choosing an account, find out any details on overdraft fee policies before you open your account. Even on the low end, those fees can add up. Every overdraft fee is money you don't get to contribute toward debt payoff, your savings for a large purchase, or your emergency fund.
Overdraft Protections
With Jeanne D'Arc Credit Union, we offer several different forms of overdraft protection. These are solutions to "help" you if you overdraw your bank account. It's important to understand the breakdown of how these "protections" work for you.
We can help you avoid insufficient funds fees, with Extended Overdraft (EOD), so if you make a purchase that extends beyond the money in your account, we'll ensure your payments are covered up to $500 until you replenish the funds, but there is a fee associated with this service. You can also choose your Savings as an Overdraft Protection Source which will transfer the funds out of your savings to cover overdrafts with a smaller fee of $7.50 applied for that service. A third option is to apply for an Overdraft Line of Credit which will cover your overdrafts up to an approved limit. There is no overdraft fee with this option, but the overdrawn funds need to be paid back along with interest.
Tips to Avoid Overdraft Fees
If you're looking for tips on how to avoid overdraft fees, the simplest answer is to not spend more than you have. But simple doesn't always mean easy. If you're new to budgeting or struggle with overspending, then it's easy to get turned around. Check out these tips to help you stay on track.
Get Balance Alerts
Find out whether your bank or credit union lets you set up alerts to notify you when your account goes below a certain amount as you make purchases. While you're there, it's also a good idea to sign up for daily account balance reminders. This constant reminder avoids the "out of sight, out of mind" mentality and can help you stick to your budget.
Deposit or Transfer Money Immediately
When you know a low balance plus a new charge triggered an overdraft on your account, you might be able to prevent fees. In this situation, the new alerts you set up will come in handy so you can immediately transfer funds to put your account back "in the green." Leaving your balance negative for multiple days can lead to substantial overdraft fees, and nobody wants that.
Link to Another Account
If you have multiple accounts, linking your checking account to a savings or credit account can help you cover transactions if your balance is low. Keep in mind that there could be a transfer fee but it is usually less than overdraft fees. Be mindful of linking a credit account, like a credit card, since you'll have to pay interest on the overdrawn amount.
Avoid Overdraft Fees With Jeanne D'Arc Credit Union
Now that you understand what overdraft fees are and how to avoid them, learn more about just how much negative checking accounts can cost you. Practicing good budget and money habits goes a long way to keeping and saving your funds!