The First-Time Home Buyer Guide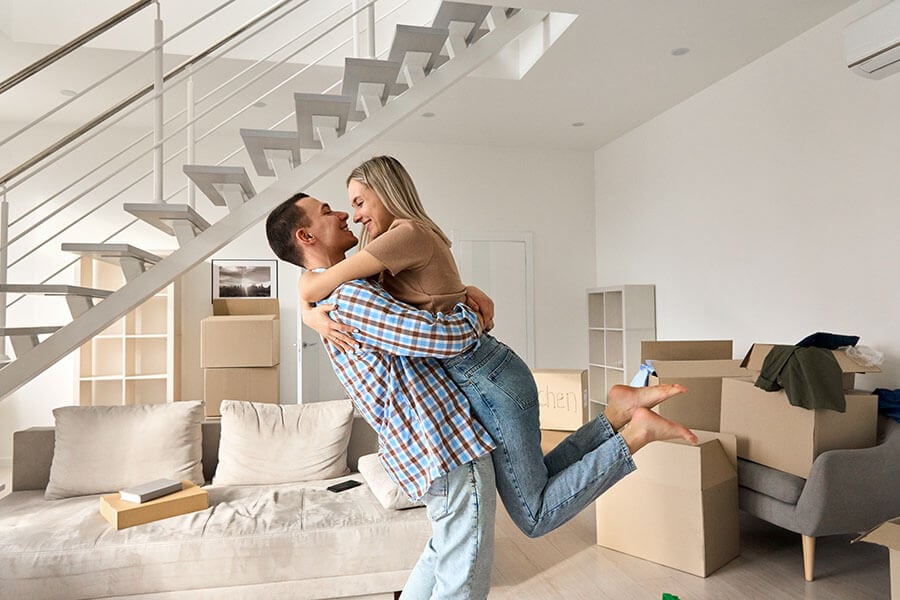 If you are buying a home for the first time, you may not know where to start. The process can be daunting — but have no fear — we are here to provide you with some guidance. We've created this first-time home buyer guide to help you understand all of the basics.
The great thing for new buyers is that there are some real benefits to being a first-time buyer, like special programs and perks to take advantage of that we'll cover here.
Process Overview For First-Time Buyers
To get you started, we've outlined the home buying process, so you have an idea of the steps you'll need to take.
1. Know your financial status, and establish your budget
First, you'll want to be familiar with your overall financial status. For example, you should have an idea of your credit score, know how much money you have in savings, and calculate how much debt you have.
This will help you create a budget and give you a place to start — especially when you're shopping for mortgages. It's a good idea to go through your finances and think about how much money you can comfortably afford to spend per month.
2. Consider what type of home you might want
There are many factors to consider when deciding on what type of home you might want to buy.
For example, you will want to think about not only how much space you need now, but how much space you might need in the coming years. If you are planning on growing your family soon, you may want to purchase a home that gives you space to expand.
If you have children, you may also want to consider school districts. And keep your interests and hobbies in mind. Consider how certain locations and neighborhoods will add value to your daily life and make it easier to do the things you love.
3. Understand how much of a mortgage you can qualify for
Depending on your financial health, you may be restricted in how much you can get approved for. The best way to do this is to start speaking with lenders and loan officers at various financial institutions.
4. Shop for a mortgage
You will want to start looking for a mortgage early on, so you'll know approximately how much you can afford and what kind of rates are available.
5. Find a real estate agent
A real estate agent is going to be your ticket to finding the homes that meet your desired criteria. They'll show you homes, and ultimately, help you negotiate and make an offer.
6. Find a home
One of the most exciting parts about shopping for a home is just that – the shopping! You'll want to consider the pros and cons of each place before coming to a decision on which homes are contenders for an offer.
7. Make an offer
Once you've found a home you love, you will make an offer on it. This is where being pre-approved for a mortgage can come in handy. Some sellers will want to see pre-approval so they know you are serious about purchasing a home and are ready to move forward with the process.
8. Get a home inspection
A home inspection will help flag any issues with the property. While this may feel like a formality, the importance of the home inspection can't be overstated. Many "perfect" homes have serious issues that buyers may never know about without an inspection.
9. Close on the home
Finally, if all is well, you will close on the home, at which time you'll get the keys.
Benefits Of Being A First-Time Home Buyer
Being a first-time homebuyer comes with benefits. These include:
Tax Breaks
Buying your first home can come with special tax breaks — for example, the home mortgage interest deduction.
State Programs
Depending on the state you live in, you may be able to take advantage of programs that help you purchase a home. You can discuss these with your mortgage lender or local financial institution to understand the options available to you.
Federal Assistance
The federal government offers programs to select home buyers to help them afford a home.
How To Shop For A Mortgage
Shopping for a mortgage is one of the most important aspects of the home buying process. Depending on the mortgage you get, you might end up with a rate that's higher than optimal. This means you'll be spending unnecessary money on your mortgage.
In the process of shopping for a mortgage, you can start to collect information on the different mortgages that you think you can get approved for. You might want to keep a spreadsheet, for example, with the different APRs, terms, and other fees or perks.
You can then use financial calculators to help you compare and contrast not only the amount you'll pay each month but also over the life of the mortgage.
First-Time Home Buyer FAQs
Here are some answers to the most common mortgage questions you may encounter.
What's an APR?
APR is the annual percentage rate. This is the cost to borrow money and includes the interest rate but also other associated fees.
What's a fixed vs. variable-rate mortgage?
A fixed-rate mortgage comes with the APR you sign for, and this rate is locked in. Variable-rate mortgages can fluctuate.
Where can I find information about Jeanne D'Arc's mortgage rates?
You can find information about our current rates here.
How do I calculate the loan-to-value rate on my mortgage?
You can find information about the loan-to-value ratio here.
Have More Questions About Mortgages?
You can discover more about mortgages on our website.