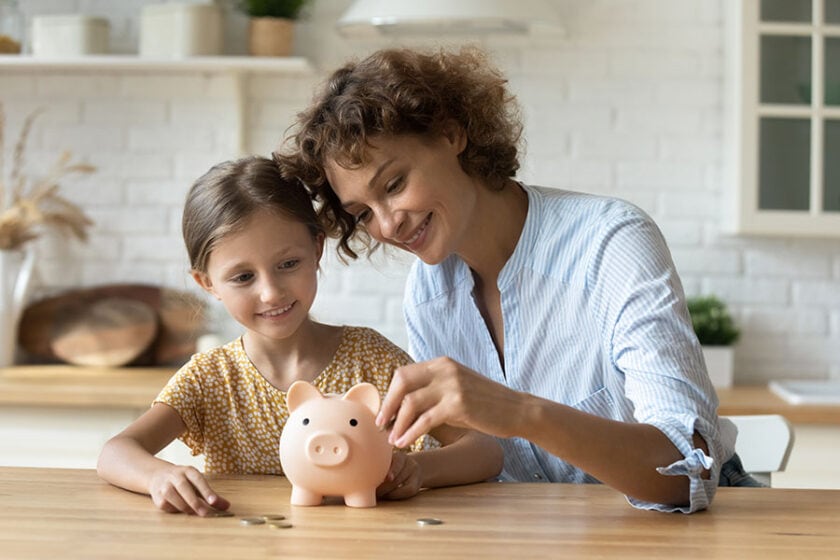 M3 Money Club - Kids' Savings Account
Get your child off to a great start learning valuable financial skills and earning big on their first $500. Watch their excitement grow with their money!
Benefits of Opening a Kids' Savings Account
Financial Education

Give your child an early start on their journey to financial success as saving teaches valuable skills.

Generous Rates

As an incentive to start saving, your child will get an amazing 10.00% APY* on their first $500.

No Monthly Fees

Watch your child's money grow with no annual fee, no withdrawal fees, and no minimum balance.

Just $5 to Open

Five dollars is all you need to open an account – then you can choose how much to deposit and when.
M3 Money Club – Kids' Savings Account

Here's everything you need to know about the Jeanne D'Arc kids' savings account:

You need just $5 to open an account for your child.
There are no monthly fees or withdrawal fees.
There is no minimum monthly balance.
Your child will get an annual percentage yield (APY*) of 10.00% on their savings up to $500.
Above $500, your child's savings will earn a dividend rate of 0.05%
A Kids' Account Comes With All These Great Features
Save Anywhere, Anytime

Your child can deposit any amount of money at any of our branch locations..

Member Perks

M3 Money Club

Teach your kids the importance of saving their money through interactive games and comics on the M3 Money Club site.
Deposit Insurance

Your child's deposits are federally insured up to $250,000. Beyond that, deposits are insured by the Massachusetts Share Insurance Corporation (MSIC).

No Hidden Fees

Your child will always stay in the black with no monthly fee or minimum balance.

A Great Path Forward

Once your child turns 13, the account automatically transitions to a Jeanne D'Arc statement savings account, or you can choose to direct funds to another account if preferred.
How to Open a Kids' Savings Account
Step 

1

Gather Your Details

Provide some basic information about you and your child.

Step 

2

Make an appointment Online

Or call your local branch for fast, friendly service.

Step 

3

Deposit Just $5

Then make regular deposits and watch the savings add up!
Best in customer service. JDCU treats you like family…feel the love.

Elizabeth C.
FAQs about Kids' Savings Accounts
No, none of the Jeanne D'Arc Credit Union savings accounts have an annual fee; this includes our kids' savings account. We want to give your money the best chance to grow!
The minimum amount to open an account is just $5. After that, there's no minimum monthly balance for our kids' savings accounts.
No, there are no withdrawal fees. You and your child can take out money anytime you like, or sit back and watch the money grow for your child's future.
Our M3 Money Club Savings Account comes with a generous annual percentage yield (APY) of 10.00% up to the first $500 deposited. Above $500, the funds in your kids' account will get a dividend rate of 0.05%.
Disclosures
*APY=Annual Percentage Yield. 10.00% APY will be paid on the balance in your account up to the first $500.00. A dividend rate of 0.05% will be paid on the remaining balance in your account that exceeds $500.00 with a $500.01 balance earning a 10.00% APY and a $1,000.00 balance earning a 5.287% APY, as examples. Requires a $5.00 minimum balance to open the account. Fees could reduce earnings. All new Jeanne D'Arc Credit Union members will have one of their consumer savings accounts (except retirement statement savings) automatically designated as their primary savings account to receive these special terms. Additional savings accounts established under the same member name, and related tax identification number, are not eligible for these special terms. The M3™ Money Club Savings is available to children Newborn to age 12. Dividend rates are effective as of November 1, 2023. All rates are subject to change, after account opening, without notice.