A New, Fun, and Rewarding Way to Save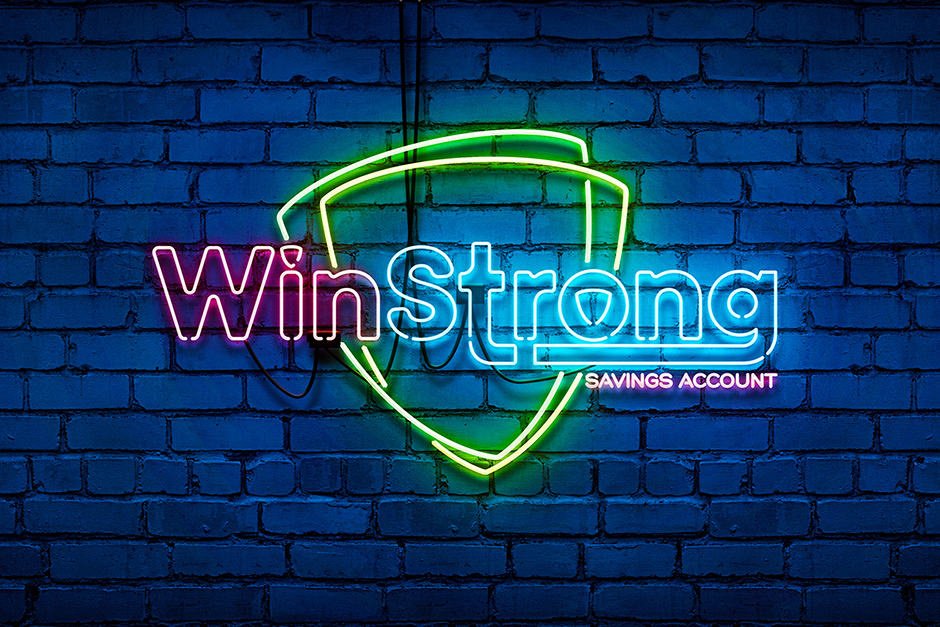 Whether saving up for big expenses or just having a rainy day fund—there are many reasons to put money in a savings account. We know saving can sometimes feel like a chore, and that's why the new WinStrong Savings Account* rewards you just for saving money.
Making Savings Fun
At Jeanne D'Arc Credit Union, we've recently introduced a new type of savings product, the WinStrong Savings Account (WSA). This account rewards you for good saving habits while you build a strong safety net of savings.
The WinStrong Savings Account is available to Massachusetts residents who are 18+ and is focused on providing a fun and easy savings experience while giving you the thrill of prize drawings throughout the year.
Save Big, Win Bigger.
While putting money aside into savings each month is a simple enough concept, it's not always easy to do. The WSA helps make saving easy by giving you the chance to win money and grow your savings balance. With each month-over-month balance increase of $25 or more, savers are awarded one entry into each of the monthly, quarterly, and annual cash prize drawings (maximum of four entries per month). Prizes include five $50 monthly prizes, two $500 quarterly prizes, and one $5,000 annual prize.
With each monthly deposit and the chance to win cash prizes, you can watch your money grow while you save over the course of the year.
Improve Financial Habits
Having money set aside in savings each month is a great financial habit to build on and WinStrong adds a little incentive that can set us on the road to real financial stability and flexibility.
Whether you currently have a savings account or need an incentive to start one, or just want to add to your chances of winning, the WSA gives you a win-win opportunity to increase your savings.
Plus, with a WSA, you'll also get paid a dividend on the entire balance in your account, including money deposited from any prize winnings.
Open A WinStrong Savings Account
It takes just $5 to open a WSA with Jeanne D'Arc Credit Union. Then, for each $25 deposit, you'll start earning entries (maximum four per month) to qualify for cash. All the money in the account remains yours and there are no maintenance fees.
So whether you're looking for an added incentive to save, or you just want to take a no-risk chance at your luck, the WinStrong Savings Account is right for you.
Learn More About Opening A WinStrong Savings Account
Subscribe to The Money Mill to get a link to our free online financial wellness program that's designed to help you successfully manage your financial life. Plus, you'll receive emails whenever we publish a new article so you'll never miss a beat!
*Chance of Winning: Actual odds of winning are based upon the number of eligible entries received. Each eligible entry shall have a chance of winning that is equal to that of all other entries.
Prizes: All Prizes are cash prizes and will be deposited into the winner's WSA account. Prize winnings may be withdrawn from the member's account, in the month they are awarded, without penalty, however, account holder is encouraged to consider saving part of any prize winnings in the WSA account.
All winners will be selected from among all eligible participants in the drawing pool. Drawings will occur on or about the 10th of each month, or the next business day, for the previous month, quarter-end, and/or year for which valid entries will be determined. Additional special drawings, in amounts to be determined, may be announced from time to time.
Winners will be notified via telephone, email, or standard USPS mail. Prizes are non-transferrable. Prize winnings will be reported as income on IRS 1099 form. Jeanne D'Arc Credit Union will provide this form to its members who have received a prize from the drawing that meets or exceeds the regulations for reporting in adherence to the MA state tax laws.