Can You Get A House Loan With No Down Payment?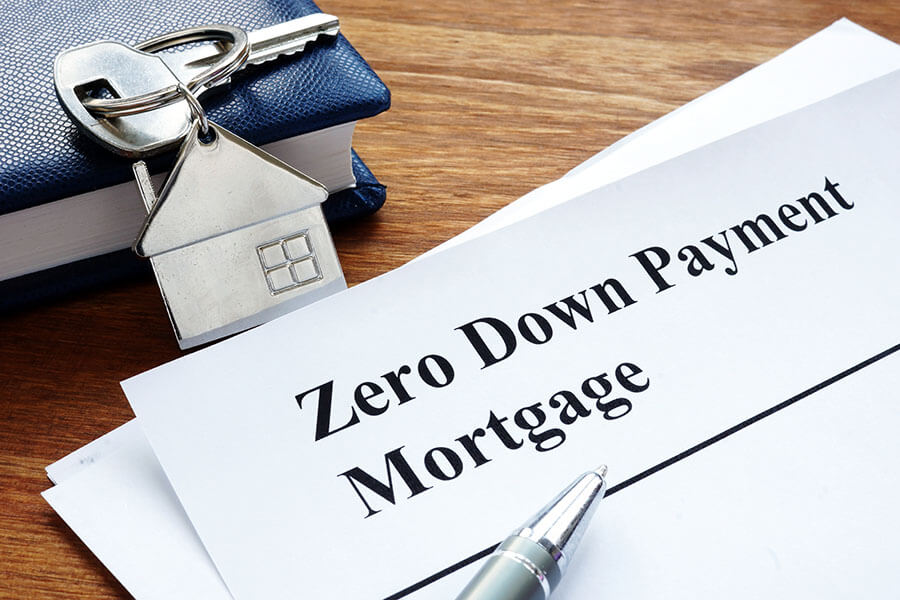 You may have been saving up for a long time to afford a house. You may have even thought that you had to aim for a large sum of money to attain homeowner status. However, despite popular belief, there is a way to take out a home loan without a down payment.
Continue reading as we walk you through the down payment process, as well as offer insight on how to get a house loan with no down payment.
Traditional Down Payments
Typically, if you are going to purchase a house, you need to pay a percentage of the home's cost upfront. Down payments greatly impact the mortgage process. They can affect how much you pay in interest, whether you qualify for certain mortgages, and if you need to take out Private Mortgage Insurance.
Home loan down payments cost you anywhere between 5 and 20% of the home's price. Generally, the higher your down payment, the lower your APR. If you can afford to put at least 20% down on your home, you will open up low APR options as lenders see you as less of a risk.
Loan-to-value ratio
Your down payment affects the loan-to-value (LTV) ratio of your home. LTV is a ratio of how much your mortgage is versus how much the property is appraised for. The lower the LTV ratio, the lower the risk to lenders and the higher the likelihood that a mortgage lender will approve your loan application.
In fact, many lenders set a specific LTV ratio that they require for a mortgage to be secured – this dictates your down payment requirement.
Private Mortgage Insurance
Private mortgage insurance (PMI) is insurance that is sometimes required when you take out a mortgage. The reason that it is important when considering down payments is that PMI is often waived if homebuyers put down a down payment of 20% or more. Costs of PMI vary but keep in mind that if you do opt for a lower down payment, you may incur the costs of PMI.
Where you shop for your mortgage can have a big influence on the limits and requirements for PMI as well. Credit unions, like Jeanne D'Arc, are member-centric and offer options to purchase homes with lower than 20% down payments that do not require PMI.
Zero-Down Mortgages
Zero-down mortgages or mortgages with 0% down payments do exist. However, they are usually government-backed loans. These are available if you are unable to purchase a home on your own. In this case, the government takes on the risk of losing money if you default on your mortgage. There are two primary kinds of zero-down mortgages – USDA and VA.
USDA Mortgages
A USDA mortgage is a mortgage option provided by the US Department of Agriculture. These loans are dedicated to helping those who are low income and cannot afford a traditional mortgage. These can either be loans directly funded by the government, or loans issued by participating lenders.
USDA loans require that you have decent credit, and a credit score of 640 or higher will streamline the process.
Veterans Affairs Loans
Veterans Affairs (VA) loans are zero percent down mortgages reserved for members of the US military – active or past. The limit of these loans depends on the location. VA loans are provided by participating lenders but are backed by the federal government.
Private companies
Some private companies may advertise zero-down mortgages. But beware, things that seem to be good to be true often are. These mortgages come with extremely high APR, require expensive PMI, or have exorbitant closing fees.
Low Down Payment and Assistance Options
Depending on where you live, you may qualify for other programs to help you obtain a low down payment or assistance with your down payment.
For example, in Massachusetts, the MassHousing program provides qualified first-time buyers with up to a 5% assistance loan for their down payment. The MassHousing Operation Welcome Home loan program also exists to help members of the military, veterans, members of the army reserve or National Guard with a down payment assistance loan and a $2,000 credit to go towards closing costs.
Choosing The Best Down Payment Option
At Jeanne D'Arc Credit Union, we know that it can be difficult to understand all of your options and decide what is best.
For guidance on how to get the process started, reach out to our loan officers. Let us explain first-time home buyer options, federal loan programs, and the pros and cons of high down payments. We'll make sure you're aware of available options and confident in your decision.