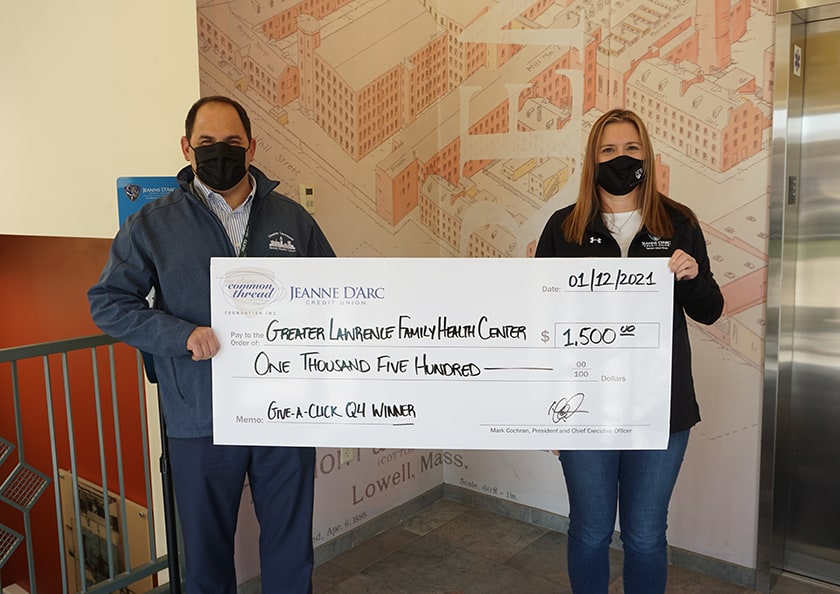 Give-A-Click
Your click can make a difference
Every quarter, the We Share A Common Thread Foundation donates $1,500 to a worthy area non-profit organization, through our "Give A Click" program. Vote for one of this quarter's featured organizations, and the non-profit with the most votes will receive $1,500 from the Foundation.
Learn more about this quarter's nominees
The German Home

The German Home's (TGH) mission is to provide a supervised, supportive and protective living environment for up to 31 ambulatory residents who cannot live alone yet do not require skilled nursing services on a routine basis.

Learn more (PDF)

Elder Services of the Merrimack Valley, Inc.

Elder Services of the Merrimack Valley and North Shore assists a diverse group of your neighbors live safely and comfortably where they want to be: in their own homes, through services such as home care, Meals on Wheels, and transportation to critical medical appointments.

Learn more (PDF)

International Institute of New England

International Institute of New England (IINE) has welcomed refugees to the city since 1919—helping to transition refugees and immigrants into their new lives in the United States and include job placements services; cultural adjustment programming; English language instruction; extended case management support; an asset development program for families ready to take steps towards purchasing a vehicle or home; and citizenship application services.

Learn more (PDF)
Cast your vote
Voting ends March 31, 2021.
Please note: We ask that you please vote just once per quarter. Once voting is closed, votes from the same IP address are reviewed for their legitimacy in order to keep the voting process fair for all nominees.