Jeanne D'Arc Credit Union Awards $1,500 to L'Arche Boston North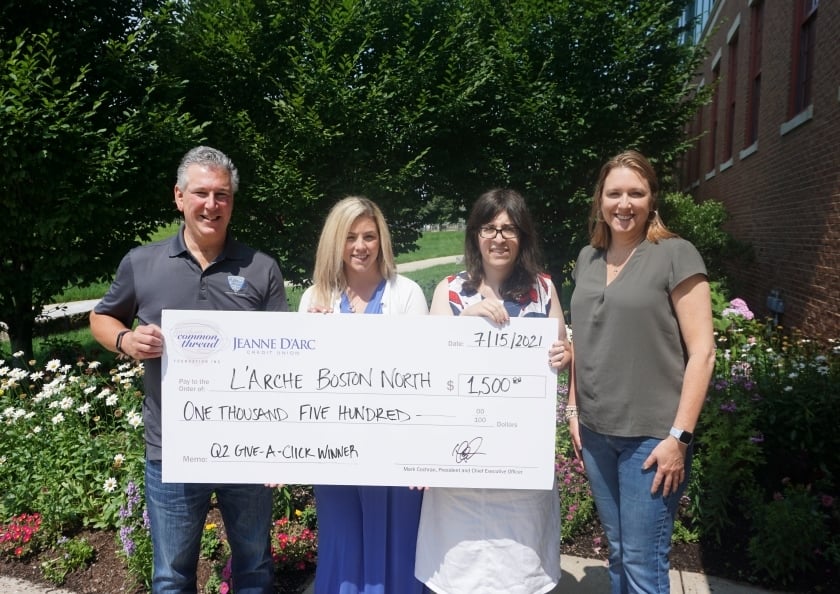 Jeanne D'Arc Credit Union Awards $1,500 to L'Arche Boston North
LOWELL, MA – Jeanne D'Arc Credit Union is pleased to present L'Arche Boston North with a $1,500 donation, through their second-quarter Give-A-Click campaign.
The Give-A-Click program runs quarterly on the We Share a Common Thread Foundation website (WSACT.com). Community members visit the site, learn about the worthy non-profit contestants, and cast their vote for the one they would like to support. The organization with the most votes at the end of the quarter is awarded a $1,500 donation from the Foundation.
L'Arche Boston North (LBN) homes is a local non-profit offering a welcoming place for people with intellectual disabilities. LBN is a community where people with disabilities, and those who assist them, live together and create a compassionate environment. In this community, the members can live independently or in a household with others. They provide daily programs, arts and crafts, and part-time jobs to the residences. These members learn valuable lessons about patience, faith, and love.
"LBN is doing admirable work creating a special and safe community for adults with intellectual disabilities," said Mark S. Cochran, President & CEO. "The Give A Click programs allows us to showcase the work being done by so many great organizations in our community."
"We are incredibly grateful to Jeanne D'Arc for being a champion of L'Arche Boston North and other community focused organizations in our area. It is through the generosity of Jeanne D'Arc that L'Arche can continue to live out our mission to provide the necessary supports and opportunities that inspire inclusive and equitable access for people of all abilities." – L'Arche Boston North fosters an environment that is inspired by their core values of creating relationships, transformations, and being a sign of hope for the changing needs of their members.
###
About Jeanne D'Arc Credit Union:
Jeanne D'Arc Credit Union was established in 1912 and is a full-service, community-based financial cooperative. Locally owned by 93,000 members with $1.7 billion in assets, Jeanne D'Arc operates eight full-service branches in Lowell, Dracut (2), Tyngsboro, Chelmsford, Methuen and Westford, Massachusetts and Nashua, New Hampshire; high-school branches at Lowell High, Dracut High, and Nashua High School South; a loan center in Lowell; and a mortgage center in Chelmsford.