Jeanne D'Arc Credit Union Awards $1,500 to Lowell Litter Krewe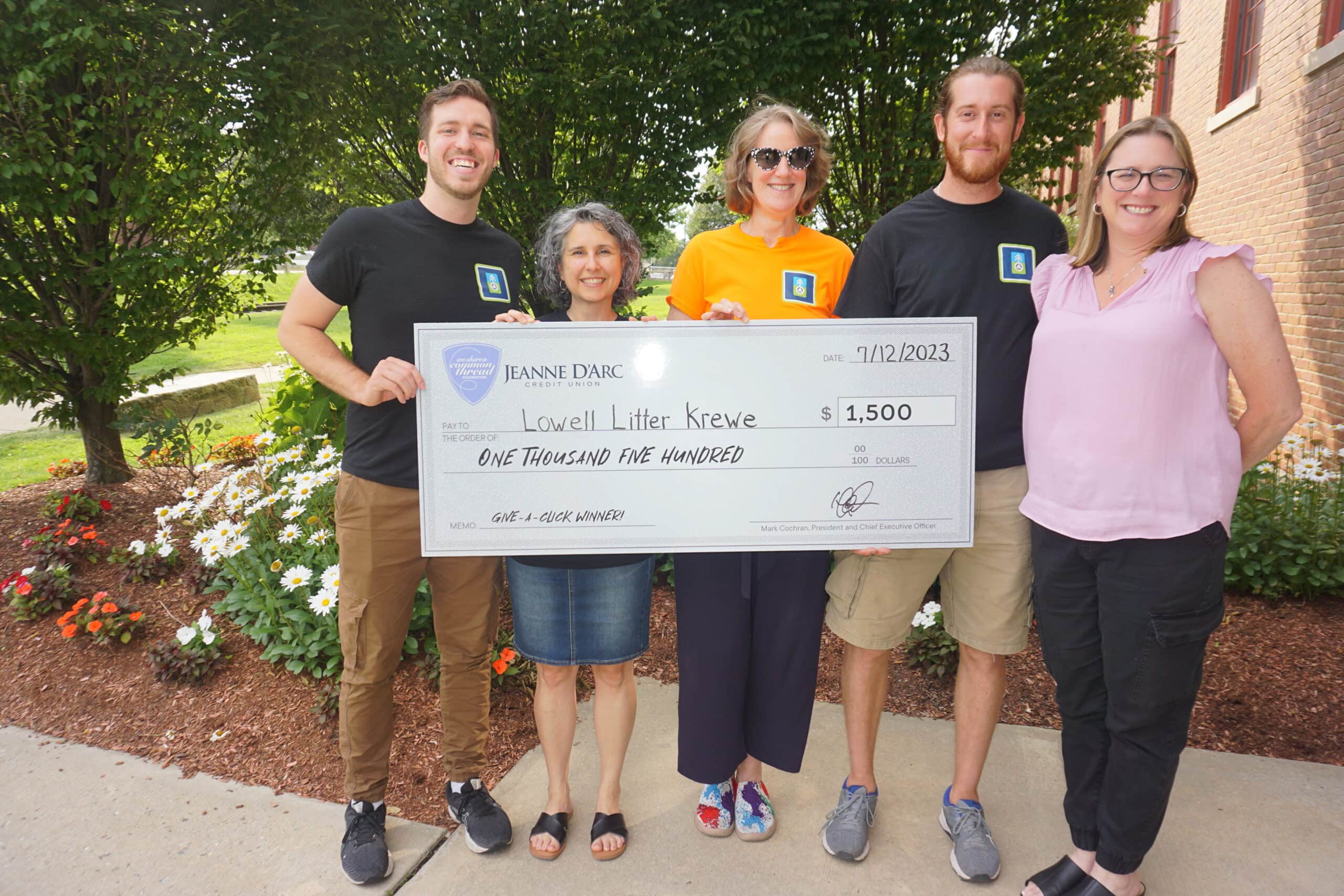 LOWELL, MA– Jeanne D'Arc Credit Union is pleased to present Lowell Litter Krewe with a $1,500 donation, as the winner of the organization's second quarter Give-A-Click campaign.
The Give-A-Click program runs quarterly on the We Share a Common Thread Foundation website (WSACT.com). Community members visit the site, learn about the worthy non-profit contestants, and cast their votes for the organization they would like to support. The organization with the most votes at the end of the quarter is awarded a $1,500 donation from the Foundation. The second-quarter nominees included Lowell Litter Krewe, Children's Dyslexia Center- Boston North, and Greater Lawrence Fellowship of the Arts.
Founded in 2021, Lowell Litter Krewe has a simple yet powerful mission, enable community members to make a difference through volunteer opportunities. They host multiple community clean-up events throughout Lowell and actively remove invasive plant species to preserve the city's environment. These events are designed for everyone, and they ensure participation is easy and accessible by providing all of the necessary equipment.
Through their first two years, Lowell Litter Krewe held 155 events, generating over 7,000 volunteer hours, and removing 200,000 pounds of trash. Their commitment extends beyond these clean-up events, during the winter they organize a snow removal program to assist Lowell seniors by shoveling their walkways. One of Lowell Litter Krewe's ongoing goals is "Eleven-Eleven by 11/11," aiming to have 1,111 volunteers, (which represents one percent of Lowell's population), participate in their events by November, 11.
"We believe that if one percent of the city can come out with us, then we can transform our home and allow us to begin the future of our development which is the enhancement of our public spaces," said, Brad Buitenhuys, Executive Director of Lowell Litter Krewe.
"We are happy to support a group that takes so much pride in keeping our city clean," said Mark S. Cochran, President and Chief Executive Officer. "We all benefit from the work of the Litter Krewe and the selfless volunteers who contribute to the cause."
Voting for Jeanne D'Arc's third quarter Give-A-Click nominees are now open. Cast your vote for Nashua PAL, Bread & Roses, or Center For Hope & Healing at WSACT.com.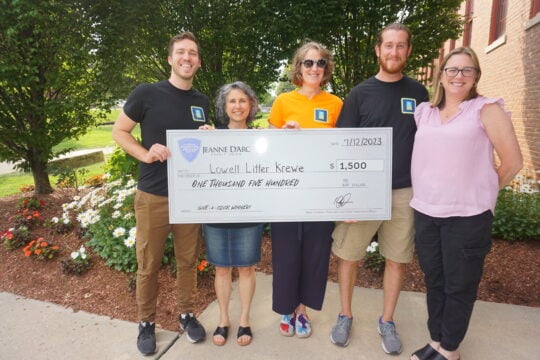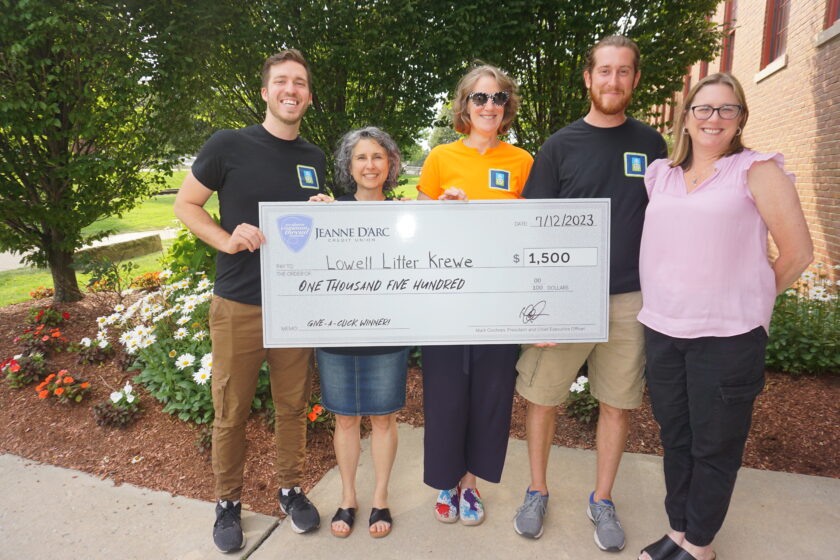 Representatives from Lowell Litter Krewe L-R: Adam Roscoe, Ami Hughes, Babz Clough, and Brad Buitenhuys accept a check from Alison Hughes, AVP-Community Engagement Officer, as the winner of Jeanne D'Arc's 2023 second-quarter Give-A-Click Campaign.