Jeanne D'Arc Credit Union Awards $1,500 to Westford Chorus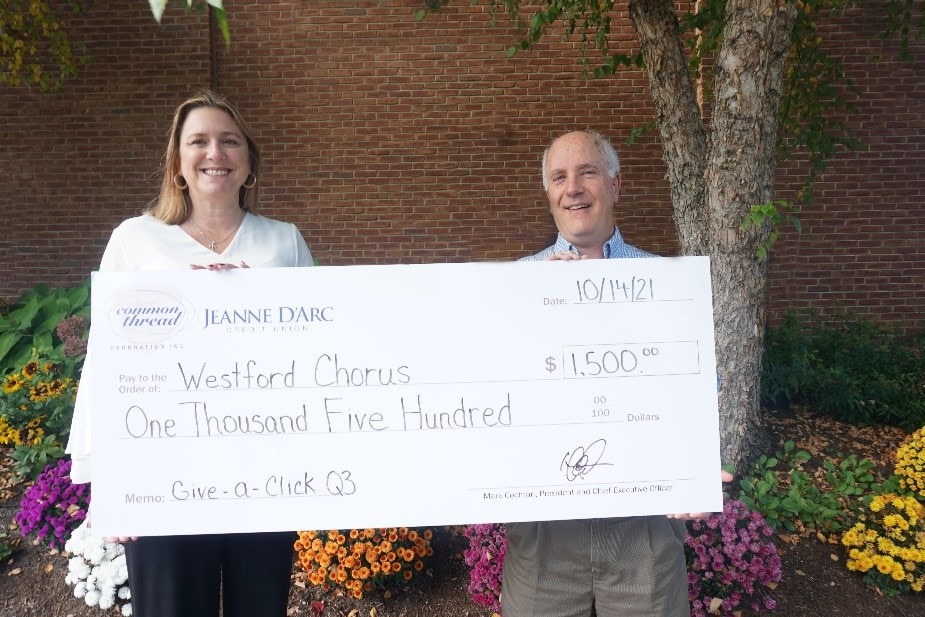 Jeanne D'Arc Credit Union Awards $1,500 to Westford Chorus
LOWELL, MA – Jeanne D'Arc Credit Union is pleased to present Westford Chorus with a $1,500 donation, through their Give-A-Click campaign.
The Give-A-Click program runs quarterly on the We Share a Common Thread Foundation website (WSACT.com). Community members visit the site, learn about the worthy non-profit contestants, and cast their vote for the one they would like to support. The organization with the most votes at the end of the quarter is awarded a $1,500 donation from the Foundation.
Since its inception in 1983, Westford Chorus has exceeded the bounds of a community chorus by performing difficult and diverse music including Classical, Jazz, and pieces from Broadway. The Westford Chorus also focuses its attention on helping the community. They bring music to residents in local assisted living facilities and nursing homes and participate in community singing events. In addition, they offer a scholarship every spring to a graduating senior from Westford Academy who intends to study music in college. During the pandemic, they continued to make music by performing virtual concerts for the community, but they hope to go back to live performances soon.
"With the pandemic hopefully coming to an end, we want to do a program that will involve a small orchestra for a very uplifting piece," said Jim Barkovic, Music Director. "This money will go towards hiring the professional instrumentalist for this program."
"Our Give-A-Click program allows us to recognize groups that may not typically get acknowledged," said Mark S. Cochran, President and Chief Operating Officer at Jeanne D'Arc Credit Union. "We are happy to support these young adults and the arts program that brings so much joy to the community."