Jeanne D'Arc Credit Union Awards Local Organization $2,023 on National Nonprofit Day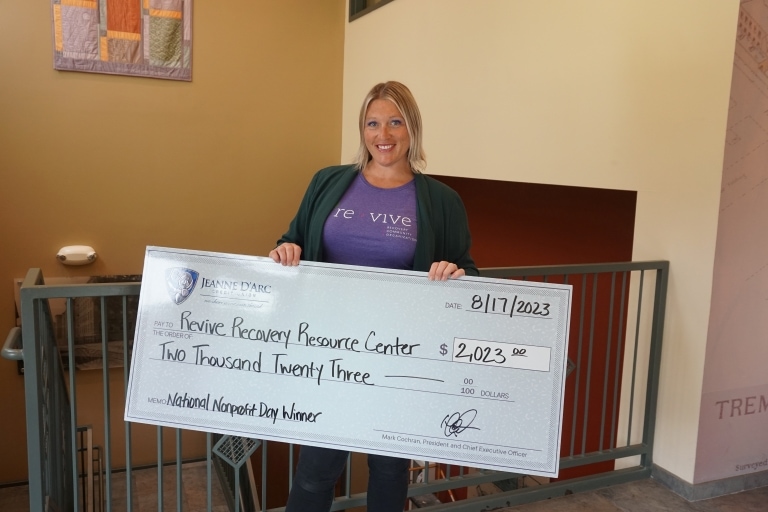 LOWELL, Mass. (August 23, 2023)– The Revive Recovery Resource Center was selected as the winner of Jeanne D'Arc Credit Union's National Nonprofit Day campaign. The organization received a $2,023 donation as the winning prize. National Nonprofit Day was celebrated on Wednesday, August 17.
The campaign, which is part of Jeanne D'Arc Credit Union's Small Acts That Give Back initiative, ran from July 17 through August 4. Community members nominated their favorite local 501(c) (3) nonprofits for the chance to win a $2,023 donation. The Credit Union received over 280 nominations during the nomination period.
Revive Recovery Resource Center is a nonprofit, peer recovery support center that was established in 2016 with locations in Nashua, N.H., Derry, N.H., and Manchester, N.H. which opened earlier this year. The mission is simple at Revive Recovery Resource Center, and that is to open doors and open minds for the recoverees in their community while providing a wide range of services for their mental, physical, and spiritual well-being.
When asked about what it meant to receive the donation, Revive Recovery Resource Center Executive Director, Jessica Carter, was pleasantly surprised, "I did not really expect it to be honest," said Carter. "I was not aware people were nominating us at first, but it really warms my heart to know that there is such a gathering of people who love Revive."
"The nominations that were received for Revive Recovery Resource Center is a testament to the difference they are making in the communities they serve," said Mark S. Cochran, President and Chief Executive Officer at Jeanne D'Arc Credit Union. "The gratitude they received from those who have first-hand knowledge of what the Center can do is why we are so thankful we have programs to acknowledge the work that is being done."