Jeanne D'Arc Credit Union Gifts $1,500 to The Center for Hope and Healing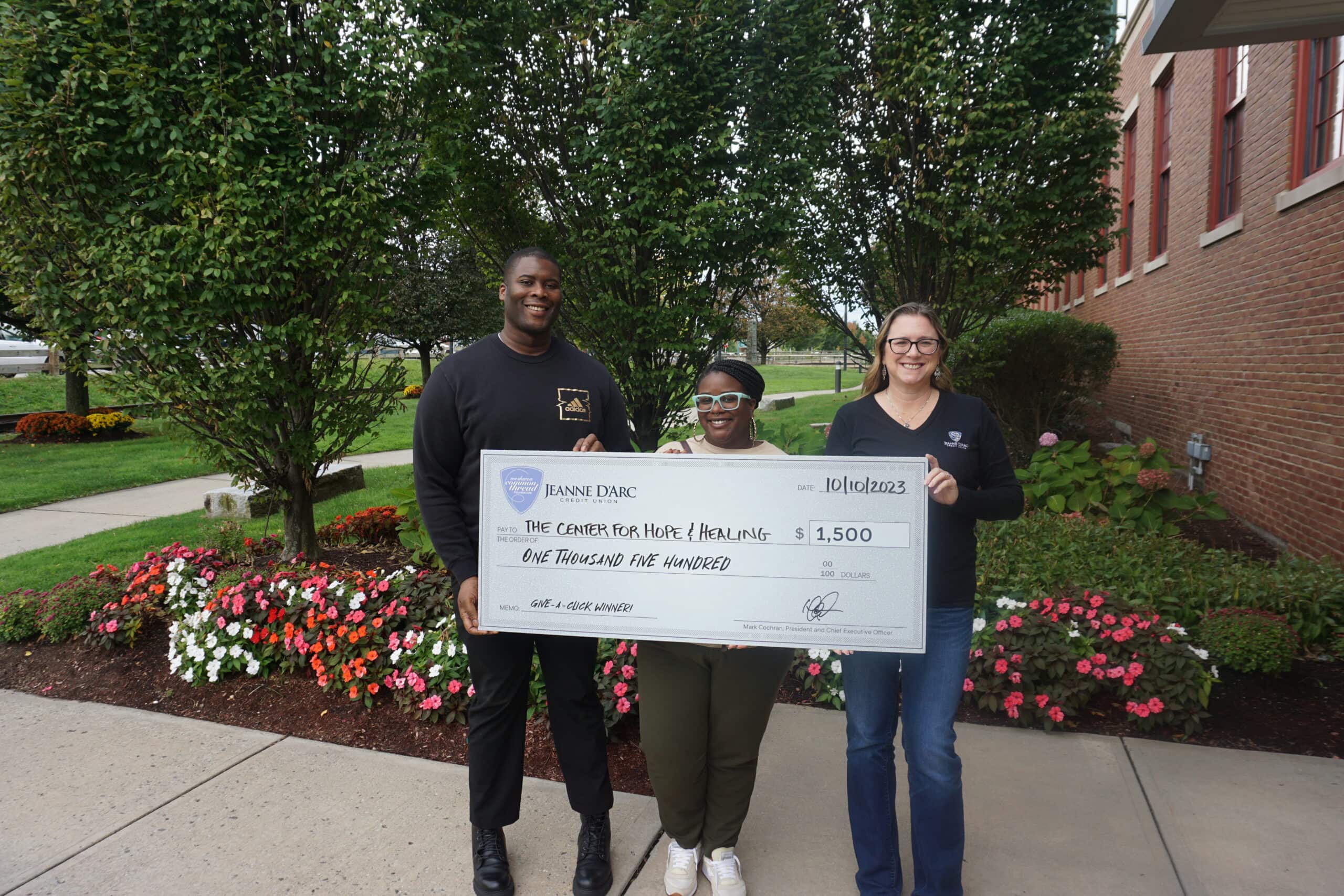 LOWELL, Mass. (October 12, 2023)– Jeanne D'Arc Credit Union is pleased to present The Center For Hope and Healing (CHH) with a $1,500 donation, as the winner of the organization's third quarter Give-A-Click campaign.
The Give-A-Click program runs quarterly on the We Share a Common Thread Foundation website (WSACT.com). Community members visit the site, learn about the worthy non-profit contestants, and cast their votes for the organization they would like to support. The nominee with the most votes at the end of the quarter is awarded a $1,500 donation from the Foundation. The third-quarter nominees included Center for Hope and Healing, Bread and Roses, and Nashua PAL.
The Center for Hope and Healing was founded in 1976 by a group of physicians, social workers, and students who came together out of concern for the number of rapes in Lowell. They then committed themselves to help in eliminating sexual violence in Lowell and the surrounding communities.
The Center for Hope and Healing offers trauma and resilience-informed support and safe spaces for survivors to heal while offering free and confidential counseling, legal and medical advocacy, and a 24-hour crisis hotline. All of their services are free and confidential, regardless of insurance, income, citizenship, or any other barriers. Center for Hope and Healing is committed to serving survivors of all identities, expressions, and life experiences.
"We are always so happy to recognize and support those organizations who are doing so much good for the people in our communities," said Mark S. Cochran, President and Chief Executive Officer at Jeanne D'Arc Credit Union. "The goal of the Give-A-Click program is to donate funds to one organization each quarter, but to also raise awareness to the twelve organizations who are highlighted throughout the year."
Development Coordinator, Arnold Johnson, expressed his thanks and gratitude explaining how the donation will be used toward the organization's wellness room. "Winning this campaign is everything to myself, and my team at The Center for Hope and Healing," said Johnson. "This check will be used toward our wellness room, a room within our organization where staff members can go to relax and take a quick break before getting back out on the floor."
Senior Manager of Prevention and Education, Masada Jones, echoed similar sentiments, "We are very grateful to have been nominated and to have won," said Jones. "I think it is very important that these clicks are provided by the community. It is really great to be recognized in this way and we are grateful to replenish our wellness room."
Voting for Jeanne D'Arc's fourth quarter Give-A-Click nominees are now open. Cast your vote for one of these three great organizations:  Brigid's Crossing, Kristy Williams Foundation, or SPC Matthew Pollini Memorial Fund.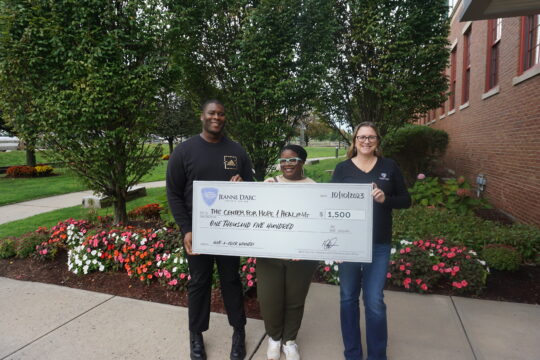 Representatives from The center for Hope and Healing from L-R: Arnold Johnson and Masada Jones accept a check from Alison Hughes, AVP-Community Engagement Officer, as the winner of Jeanne D'Arc's 2023 third-quarter Give-A-Click Campaign.