Jeanne D'Arc Credit Union Breaks Ground on Acre Crossing Project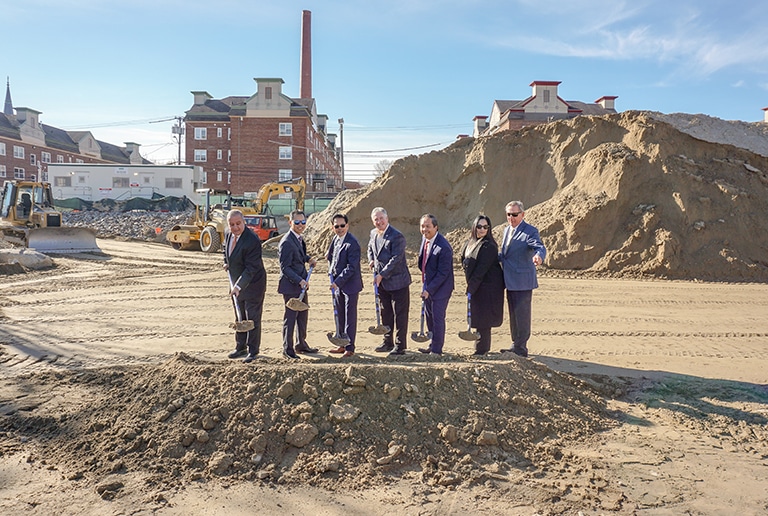 LOWELL, MA– On Tuesday, November 15 Jeanne D'Arc Credit Union held a groundbreaking ceremony to kick off the construction project in the Acre Neighborhood known as Acre Crossing.
Representatives from the City of Lowell, Acre Crossing LLC, business partners, neighbors, and the Jeanne D'Arc Board of Directors gathered at the corner of Cabot and Merrimack Streets to celebrate the project.
Acre Crossing will be home to a 5-story Jeanne D'Arc Credit Union office building and 160 parking spaces in a two-level garage, with the lower level underground. The 110-year-old Credit Union's roots are in the Acre, and they have continued their dedication to the area with Acre Crossing being the third building the Credit Union will operate in the neighborhood.
The residential portion of the development will bring 32 two- and three-bedroom condominiums to The Acre. Acre Crossing LLC in partnership with the Merrimack Valley Housing Partnership will bring these affordable housing units to the area allowing many to start their homeownership journey. The residential building will also incorporate retail space at the ground level.
"The cooperation between the mixed-use space, combining business, retail, and residential is a unique opportunity that we are excited to be a part of," said Mark S. Cochran, President and Chief Executive Officer at Jeanne D'Arc Credit Union. "The partnership we've created and the support we've received from the city and state allows Jeanne D'Arc to stay true to our mission and our roots while contributing to the improvement of the city, specifically, The Acre Neighborhood."
"I want to thank Jeanne D'Arc for their investment in the Acre for over 100 years," said Cathy Mercado, Executive Director of the Merrimack Valley Housing Partnership. "Because of the many partnerships that have made this project possible, it will create generational wealth for generations to come. The Acre will no longer be known as a stepping stone to new community members, but will be a place to grow."
Acre Crossing is scheduled to be completed in mid-2024. Follow the development of Acre Crossing at www.acrecrossing.com.