Jeanne D'Arc Credit Union Awards $5,000 to First WinStrong Savings Winner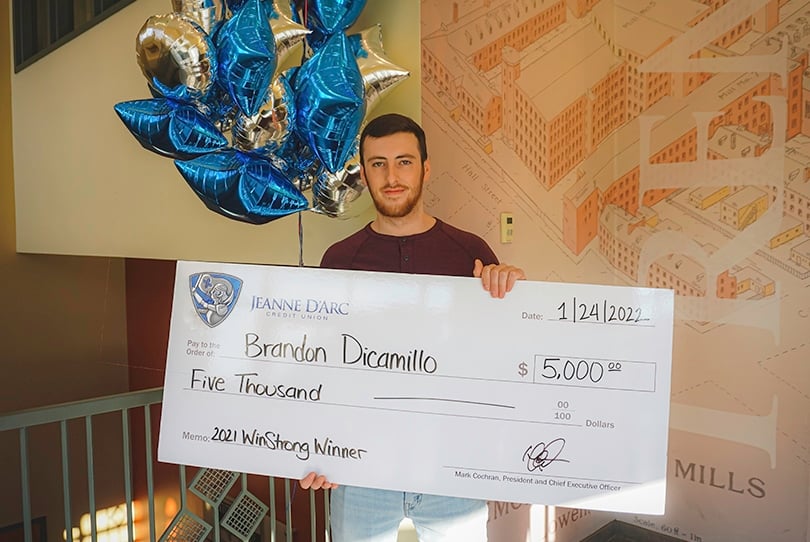 Lowell, MA — Jeanne D'Arc Credit Union awards Brandon Dicamillo $5,000 as the first Grand Prize Winner in the WinStrong Savings Account Annual Prize Giveaway.
Jeanne D'Arc launched the WinStrong Savings Account in January 2021 to incent and reward members for saving. For each $25 you increase your savings balance each month, the member will receive one prize drawing entry (maximum 4 entries per month) into monthly, quarterly, and annual drawings, so the more you save, the more you win.  Prizes include five $50 monthly prizes, two $500 quarterly prizes, and one $5,000 annual prize.
There's nothing to lose, with a WinStrong Savings Account. All of the money deposited remains with the account holder, and as a bonus, they receive entries qualifying them for a chance to win cash prizes, so members have a little incentive to create big savings!
In the program's first year, Jeanne D'Arc has given away over $10,000 to members just for simply saving. "I signed up last January and started depositing money into the account. It was easy to sign up and simple to understand, and the incentives were great too! I just started my own business, so this money came at a great time," said Brandon Dicamillo.
"We are one of two credit unions in Massachusetts offering this program," said Mark S. Cochran, President and Chief Executive Officer at Jeanne D'Arc Credit Union. "We believe a program like this can add a little excitement to helping our members save.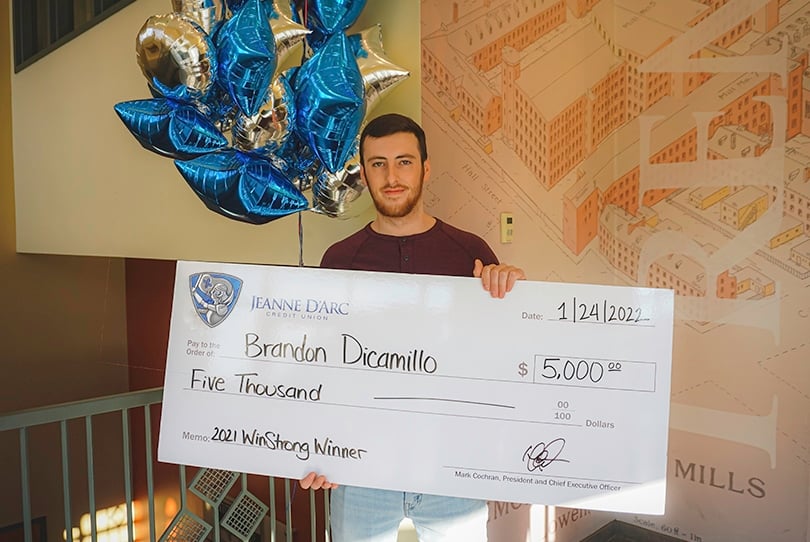 Brandon Dicamillo accepts a $5,000 check as Jeanne D'Arc's first WinStrong Savings Account Grand Prize Winner.